Peppermint Bark Oreos Are Making A Comeback For The Holiday Season
By Emily Lee
August 6, 2019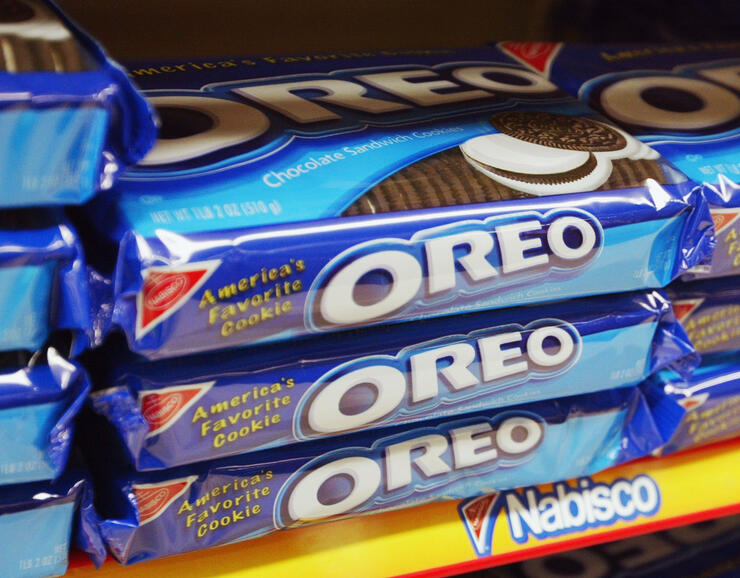 The holidays need to get here ASAP because Oreo is bringing back your favorite Christmas snack. The cookie company has revealed Peppermint Bark Oreos will be returning to store shelves this winter and, TBH, December can't come soon enough.
Foodie Instagram account @CandyHunting shared the news on social media over the weekend. Not only are the Peppermint Bark Oreos making a comeback, Oreo is partnering with Netflix for a Christmas movie tie-in with the wintery cookies. The packaging is reportedly labeled with Netflix's logo and "Klaus."According to Indie Wire, Netflix is currently developing their first animated feature titled Klaus. Few other details are known about the collaboration, but if it's bringing these Oreos back then we're all for it. Here's a photo of the new packaging:
If you've never had the pleasure of trying Peppermint Bark Oreos before, the festive flavor combines the classic Oreo cookie with peppermint creme and red "crunchy sugar crystals." Yum!
Needless to say, fans were ecstatic over the news. "These are my all time favorite Oreos!!" one person commented. "These were the best! I swear I gained 5lbs eating them," another added. One fan even shared her hack to take them to the next level: "Dip in white chocolate & sprinkle with crushed candy canes, they make the best easy cookie exchange treats."
There's no official word yet on exactly when Peppermint Bark Oreos will return to stores, so, keep your eyes peeled as the holidays get closer. Are you excited for these to make a comeback?
Photo: Getty
Chat About Peppermint Bark Oreos Are Making A Comeback For The Holiday Season