Hi, So Kylie Jenner Just Boarded A Plane With A Wedding Dress
By Peyton Blakemore
August 7, 2019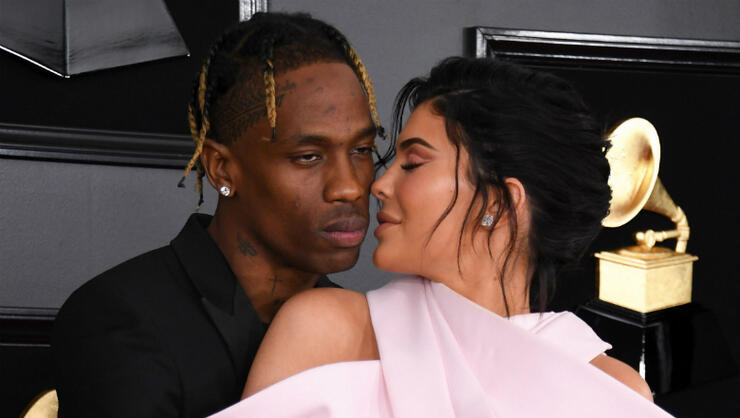 Kylie Jenner and Travis Scott wedding rumors have just reached code red!
On Tuesday (August 6), the 21-year-old billionaire and her 28-year-old rapper boyfriend were spotted boarding a private plane to Kylie's birthday yacht party in Italy with a — as TMZ so eloquently put it — very "interesting piece of luggage": A FREAKIN' WEDDING DRESS!
Photos, published by the entertainment news outlet, showed a "flowing, feathery, white dress protruding out the bottom of a garment bag" being loaded into the plane as well as what appeared to be a suit, possibly a tux, for Travis. Adding to the wedding speculation, Kylie's closest family members and friends — her daughter Stormi, mom Kris Jenner, Scott Disick, Sofia Richie, Corey Gamble, and few others— were also aboard the aircraft.
However, sources quickly shot down reports of a combined birthday-nuptials celebration for the Kylie Cosmetics creator, telling TMZ, Kylie's not walking down the aisle with Travis... at least not on this trip. Instead, the two will be living their best life aboard a $250 million mega-yacht, along with Kylie's family and friends, for her 22nd birthday.
Speaking of over-the-top celebrations, Travis surprised Kylie with thousands (maybe even millions) of rose petals — enough to cover the floor of her mansion — and nearly half-a-dozen gorgeous flower arrangements on Monday (August 5) as a pre-birthday gift.
"My house is covered in ROSES!" Kylie, who turns 22 on Saturday (August 10), captioned an Instagram video that showed her rose-covered floor and perfectly spaced flower arrangements. "@travisscott and it's not even my birthday yet!!!!! Omg ♥️♥️♥️♥️♥️😭😭😭😭." She additionally showed the card Travis sent with his flower-filled gift that read: "Happy Birthday!!!! We're just getting started. Love You!!!!"
Photo: Getty Images
Chat About Hi, So Kylie Jenner Just Boarded A Plane With A Wedding Dress