Ron Burgundy Makes Late Night TV History
By Taylor Fields
August 9, 2019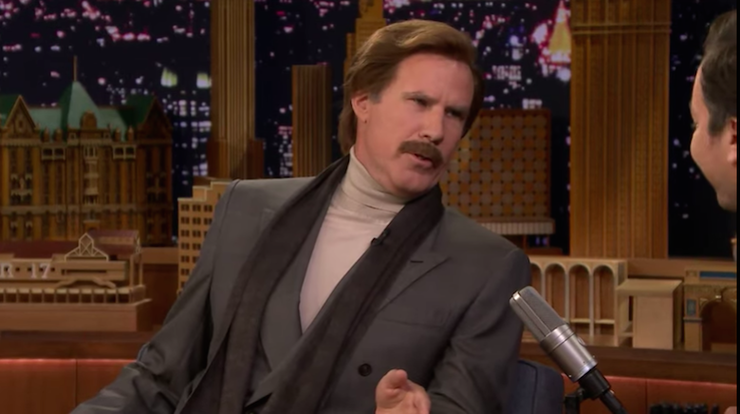 It's been a big week for Ron Burgundy — maybe even a glass case of emotion type of week. The beloved anchorman launched season 2 of his podcast, The Ron Burgundy Podcast, and he made late night TV history by appearing on six major late night talk shows all in one night.
Burgundy brought his delightful wit to The Tonight Show starring Jimmy Fallon, The Late Late Show with James Corden, Jimmy Kimmel Live!, Conan, Late Night with Seth Meyers, and The Late Show with Stephen Colbert. From a prop comedy routine, to standup comedy sets, to downing several glasses of scotch in the process, to calling out Shawn Mendes, to hanging out with zoo animals, Ron did it all.
Check out all of Ron Burgundy's late night tour below.
Prop Comedy on Conan
On Conan, Burgundy indulged the crowd in some good ol' prop comedy and pulled items out of a trunk on stage. What's in Ron's trunk of treasures you ask? A small house with a mouse inside of it (AKA a mouse pad), a pair of glasses with two iPhones attached to it so you "never miss a LinkedIn request," a "Bladdermir Tootin" doll that farts and looks a lot like (you guessed it) Vladimir Putin, Corn-an O'Brien (which is a piece of corn with a wig similar to Conan's hairstyle) — but he doesn't like that joke because it's .. wait for it .. "corny." Afterwards Burgundy sat down with O'Brien to talk about his budding comedy career, and of course, The Ron Burgundy Podcast.
Calling out Shawn Mendes on The Tonight Show starring Jimmy Fallon
Burgundy continued his late night trek on The Tonight Show starring Jimmy Fallon, and also continued his comedy routine — except instead of prop comedy, he whipped out a standup routine. After joining Fallon at his desk, it didn't take long for Ron to say, "Do you mind if I do some standup comedy?" During his set, Burgundy talked about the New York City subway and its lack of air conditioning, NSFW Christmas presents, the New York Yankees (they're a big deal), Shawn Mendes (Ron's not his biggest fan), and more. In fact, Burgundy ended on a rant about Shawn Mendes and how he wrote "If I Can't Have You" about Camila Cabello, and not Mendes.
Scotchy Scotch Scotch and Standup on Jimmy Kimmel Live!
Ron kept the standup going on Jimmy Kimmel Live! where he talked about his experience with dating apps, an ancestry DNA test with surprising (or maybe not so surprising) results, his opinion on Buffalo Wild Wings, and gave his best high Jack Nicholson and Jimmy Stewart impressions. Then, Ron grabbed a glass of scotch and talked about what to expect on season two of The Ron Burgundy Podcast.
"Fake News" on The Late Show with Stephen Colbert
After another standup comedy set, Burgundy chatted with Stephen Colbert about a number of subjects on The Late Show. After being asked about how being on every late night show was going that night, Burgundy revealed that although Stephen isn't his favorite late night host of all time, he's in his "Top Five." Ron also reminisced about being in that same theater years ago to see magician Fred Kaps — but only after "suffering" through an performance by The Beatles.
Colbert also asked Burgundy about President Donald Trump, who the anchorman described as "a real character," "a river boat gambler" and "hell of a business man" after seeing him at a golf tournament. And when the subject of "fake news" came up, Ron had this to say: "I think it's out there for sure - let's face it, a lot of the stuff I report is made up." After revealing advice he gives to aspiring journalists about "finding the truth," he later added that if they cannot find the truth, "there's plenty of handsome white guys like me that will lie right to your face."
Ventriloquism with Hipster Dummy on Late Night with Seth Meyers
After the prop comedy and standup routines Burgundy did on the other late night shows, the anchorman decided to show off another talent of his on Late Night with Seth Meyers: ventriloquism. Ron busted out his beanie-wearing, beard-rocking, glasses and flannel wearing hipster pal named JJ Hipster ... except after JJ told Ron he wasn't funny, the two got into a huge fight. In fact you might say that it "escalated quickly." In the end, JJ Hipster was knocked out, along with his polaroid camera.
Hanging with Zoo Animals on The Late Late Show with James Corden
Ron finished the night out with some standup comedy on The Late Late Show with James Corden. He relived his root canal that was done earlier in the day and explained that he hates going to the dentist, as well as expressed his extreme dislike for PayPal. As he so eloquently put it: "If I have to pay you, you're not my pal." Burgundy also touched on Immigration, and the wall that president Trump is trying to build at the boarder of Mexico — he was really confused as to how Mexico is supposed to pay for this wall.
Then, after a quick chat about fake news, the new season of The Ron Burgundy Podcast and his dream guests, Ron stuck around to hang out with Corden and one of the show's other guests, Zookeeper Rick Schwartz, who brought a few reptile friends with him amongst a few other animals including a skunk. And in case you didn't already know, Ron is not a fan of skunks.
Season 2 of The Ron Burgundy Podcast kicked off with its first episode, welcoming guest and presidential candidate Senator Kamala Harris. Harris and Burgundy talked politics and even discussed the anchorman becoming Kamala's running mate. Harris/Burgundy 2020? Listen to The Ron Burgundy Podcast every Thursday on iHeartRadio.
Chat About Ron Burgundy Makes Late Night TV History