Snoop Dogg Pays Tribute To Suge Knight On 'Let Bygones Be Bygones'
By Peyton Blakemore
August 8, 2019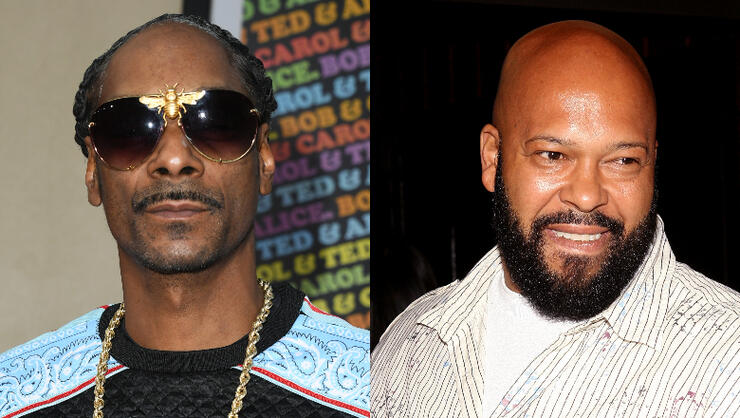 Snoop Dogg and Suge Knight are "cool as a motherf**cker!" So cool in fact, Snoop honored his old friend on his new song "Let Bygones Be Bygones."
"I'm cool with Suge, I'm cool with Master P, Dr. Dre—I'm cool with everybody," the West Coast legend begins the track. "But I had to get that cool. I had to go sit down with Suge."
Snoop then takes a trip down memory lane, reflecting on the ups and downs of his journey with Death Row Records, which launched his career, and Suge. "This man changed my life / We made history together," he raps about the record producer, who is currently behind bars, serving a 28-years sentence following a hit-and-run incident in 2015​. "Yeah, he did some bullsh*t/I'm admitting that," Snoop adds.
While the "Gin and Juice" rapper and Suge had their issues in the past, Snoop acknowledges the impact the former bodyguard had on his life. "Suge Knight, a real ni**a, man / Think about all the great sh*t that you did / Let bygones be bygones," he raps. "Death Row Records will go down in history, ni**a / We did that."
Snoop previously opened up about the reflective track in June, telling Billboard, "That's a real musical song, very musical, where I'll probably have a proper band up there playing the musical pieces and give it an array of sound that normally you don't see in a hip-hop show."
Check out the track below!
Snoop drops his 17th album, I Wanna Thank Me, which features "Let Bygones Be Bygones," on August 16.
Photo: Getty Images
Chat About Snoop Dogg Pays Tribute To Suge Knight On 'Let Bygones Be Bygones'