Watch Kylie Jenner & Khloe Kardashian Get Drunk While Doing Their Makeup
By Peyton Blakemore
August 9, 2019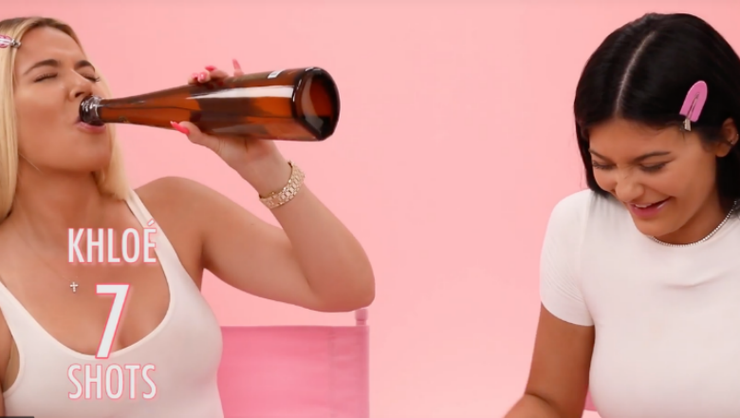 Who knew watching Khloe Kardashian and Kylie Jenner get drunk while doing their makeup would be the best 20 minutes of my day?
For those who have yet to watch the glorious Youtube video, let me just say, you should! I mean, it's actually Youtube gold and I can't believe drunk makeup tutorials aren't the most watch videos on the Internet. Well, enough of my gushing, let's get to the video.
Okay, it starts off with Kylie explaining what's about to happen. "Today's going to be a really fun day because we are doing a drunk 'Get Ready With Me' with Khloe using my brand new [Kylie Cosmetics] birthday collection," the billionaire says as she shows the custom bottle of Don Julio 1942 they'll be drinking that Khloe gifted her for her 21st birthday last year.
The soon-to-be birthday girl is then shown at her office in Calabasas taking her first shot as she waits for Khloe to arrive. When Khlo-money, as she likes to be called when she's drunk, finally joins the party, Kylie has her take a shot followed by a Red Bull chaser while in the parking garage. "I used to do a Red Bull and alcohol too, but now that I am 703, I don't," Khloe jokes.
Eventually, the sisters go through about five shots before finally starting to do the makeup portion of the video. However, no drunk video is complete without a few interruptions. While doing their glam, the ladies manage to call nearly all of their family and friends on FaceTime including, Kris Jenner and Malika Haqq. And while Khloe and Kylie invites both ladies to join their drunk makeup party, Kris and Malika turn down the invite. But, just when it looks like it'll only be a Kylie and Khloe party of two, the sisters are joined by their mom's boyfriend Corey Gamble.
To note, while all this is happening, they're still taking shots and doing a pretty good job on their makeup.
A little while after Corey arrives, Kylie and Khloe are soon derailed by a FaceTime call from Kim Kardashian, whose with Kanye West, Saint West, and North West. But almost as fast as the call begins, it ends with Kim hanging up on her clearly intoxicated sisters after they start hilariously yelling into the phone. Then, almost like magic, Sofia Richie appears right when they're midway through the highlighting portion of their makeup tutorial. And after a few more laughs, and shots — yes they were taking shots this whole time —the two end their video with a hilarious dance party and impromptu 10-second makeover for Miss Richie.
In total, the ladies drank 18 shots, with Khloe taking 11 and Kylie taking 7, and did a complete makeup tutorial. Pretty impressive if you ask me.
See the hilarious video below!
Chat About Watch Kylie Jenner & Khloe Kardashian Get Drunk While Doing Their Makeup