American Gold Medalist Takes A Knee During National Anthem At Pan Am Games
By Bill Galluccio
August 11, 2019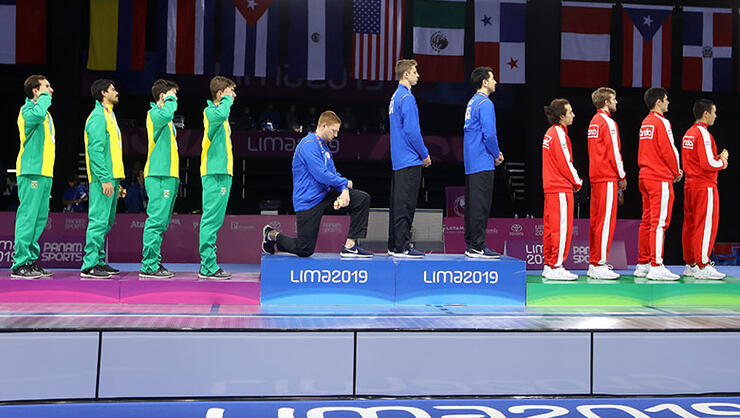 An American fencer took a knee while the Star-Spangled Banner played during the medal ceremony for the team foil event at the Pan-American Games in Lima, Peru. Race Imboden says he was willing to give up his "moment at the top of the podium to call attention to issues that I believe need to be addressed."
"My pride however has been cut short by the multiple shortcomings of the country I hold so dear to my heart. Racism, Gun Control, mistreatment of immigrants, and a president who spreads hate are at the top of a long list," he wrote on Twitter.
Imboden could face sanctions for his protest. The United States Olympic and Paralympic Committee (USOPC) issued a statement saying that all athletes agreed not to make political statements during the Games.
"Every athlete competing at the 2019 Pan-American Games commits to terms of eligibility, including to refrain from demonstrations that are political in nature," Mark Jones, a committee spokesman, said in the statement. "In this case, Race didn't adhere to the commitment he made to the organizing committee and the USOPC. We respect his rights to express his viewpoints, but we are disappointed that he chose not to honor his commitment."
Imboden knew he could be punished for his actions, but says he does not regret his decision to take a knee.
"To lose fencing for me is the only thing in my life, other than my loved ones, family and friends, that would affect me greatly," he said. "So to hear that it is something that could be affected, obviously, scares me a lot. But I don't regret my actions."
Photo: Getty Images
Chat About American Gold Medalist Takes A Knee During National Anthem At Pan Am Games