Brothers Osborne Announce New 'Live At The Ryman' Album
By Blake Taylor
August 12, 2019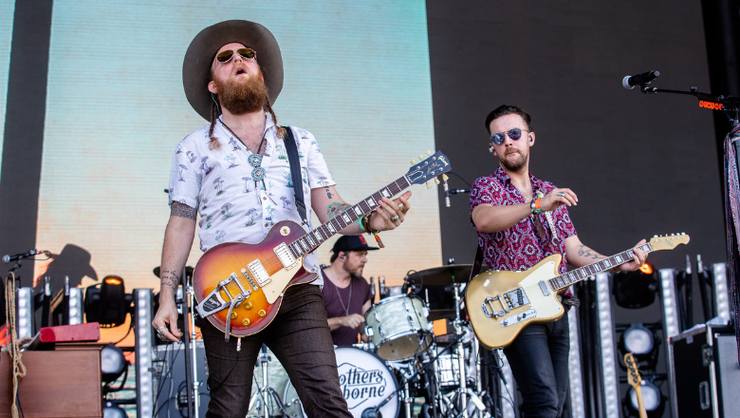 Brothers Osborne just announced their new album, Live At The Ryman, will officially be released on October 11.
The project was recorded during their three-night, sold-out show at the famous Ryman Auditorium in Nashville earlier this year. Now, fans who couldn't make it to the show in person, will get the chance to relive one of the band's most unforgettable sets.The duo's hit songs "Stay A Little Longer" and "It Ain't My Fault" will be featured on the forthcoming album along with fan favorites like "Weed, Whiskey And Willie" and "21 Summer."
"The Live at the Ryman album highlights- it's hard for me to say what our strengths are- but it highlights who we really are," says John Osborne. "To play this place one night is a gift, it's an accomplishment that everyone should remember, but the fact that we did it three [nights], I still can't wrap my mind around it."
T.J. Osborne adds "Recording at the Ryman is an incredible experience. This place never loses its charm and its luster, and I hope it never does for me. It's always a special spot."
Special album packages, including new merchandise, will be available to purchase on Brothers Osborne's website. Additionally, members of the duo's fan club, called the Family, will have exclusive access to the album on October 10.
In the meantime, Brothers Osborne will hit the road with Chris Stapleton later this fall on his "All-American Road Show Tour." They'll also is also be joining Willie Nelson at a few of his shows, one being the Farm Aid on September 21.
Live At The Ryman Track Listing:
Drank Like Hank
Shoot Me Straight
I Don't Remember Me (Before You)
Weed, Whiskey and Willie
Down Home
Rum
Pushing Up Daisies (Love Alive)
Tequila Again
21 Summer
Love The Lonely Out Of You
Stay A Little Longer
It Ain't My Fault