Hong Kong International Airport Shuts Down All Flights
By R.J. Johnson - @rickerthewriter
August 12, 2019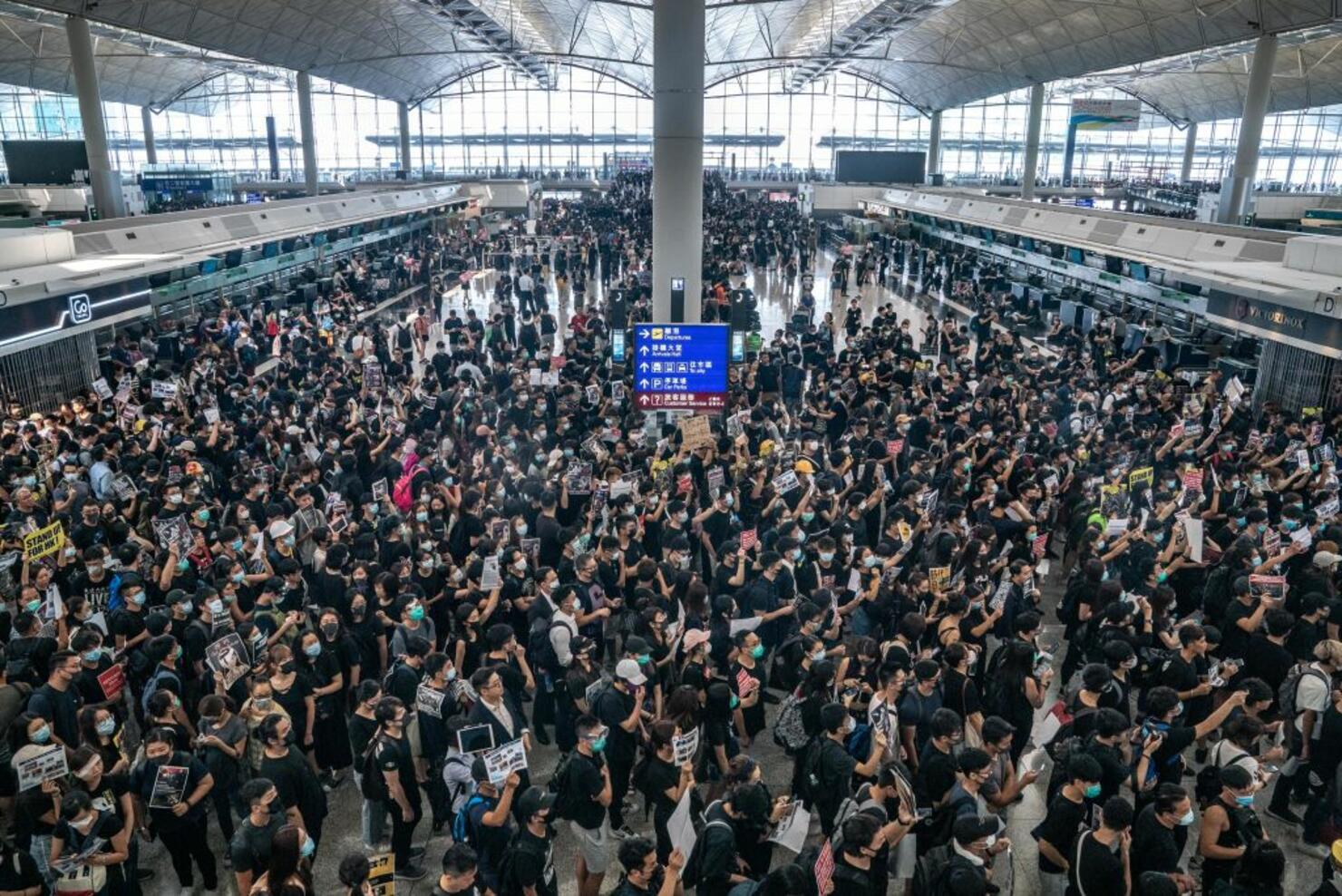 Hong Kong International Airport had to shut down all out-going flights after thousands of pro-democracy protesters staged a sit-in at one of the world's busiest airports as part of a mass protest for more autonomy from Beijing and an independent investigation into police behavior.
In a statement, airport officials said operations at the airport were "seriously disrupted as a result of the public assembly at the airport today." Besides those departing flights with passengers who had already finished the check-in process, and those arriving to Hong Kong, all other flights were cancelled as a result of the protest, officials said. Passengers were unable to check in or clear airport security in time for their flights.
Activists flooded the airport's main arrival terminal on Monday, shouting "No rioters, only tyranny!"
Protesters have been demanding Hong Kong leader Chief Executive Carrie Lam, to resign and called for the release of those people who were arrested during protests earlier this month. Activists also say they want an independent inquiry into police use of force after demonstrations have grown in recent weeks.
At issue, is a now-shelved bill that would have allowed suspected criminals held in Hong Kong to be transferred for trial to jurisdictions in mainland China. Critics say the bill would allow Beijing to expand its control on the independent territory and . Hong Kong was a British colony until it was handed over to China in 1997. As part of the handover, China agreed to allow Hong Kong operate under a "one country, two systems" meaning Hong Kong citizens were given certain democratic rights and political systems for the next 50 years.
Protests erupted on June 9 in opposition to the bill, but they have grown into a generalized show of discontent by Hong Kong citizens with China's heavy-handed tactics, poor local governance, and Beijing's control over the international hub. On Monday, Chinese officials accused the protesters of attacking officers using "supremely dangerous tools." China's Hong Kong and Macao Affairs Office warned that the protests were "beginning to show the sprouts of terrorism" and served as an "existential threat" to residents in Hong Kong.
Video from the protests show police using tear gas in crowded underground train stations and firing bean-bag rounds at close range. One photo of a young woman hit in the eye with a rubber bullet from Hong Kong police went viral after activist Joshua Won tweeted it.
"I am not sure whether her right eye will turn blind or not but it is totally insane and terrible," Wong tweeted. "US should not export tear gas and rubber bullet to HK Police anymore."
Protesters have seized on the image, with many holding signs that read, "An eye for an eye" according to local media.
Departing flights are expected to resume at the airport beginning 6 a.m. Tuesday.
Photo: Getty Images