iHeartCountry ICONS with Vince Gill: How to Watch Live
By Taylor Fields
August 12, 2019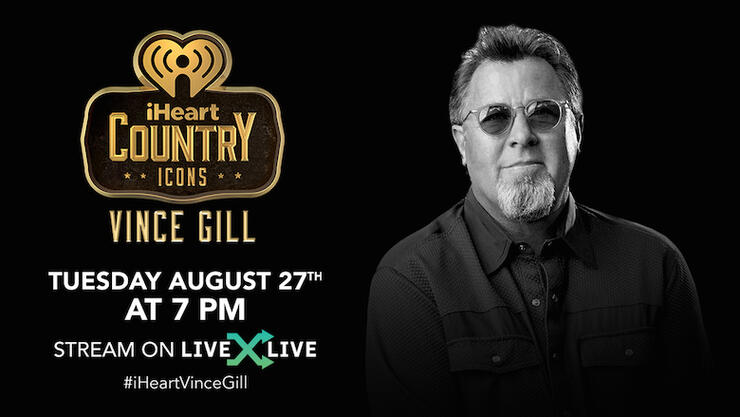 Vince Gill has been writing and releasing country music for nearly four decades. After 14 (soon to be 15) full-length studio albums under his belt, several hall of fame inductions and 21 Grammy awards, among other accolades, he has certainly earned the title of "music icon." To celebrate his incredible career and the release of his new album Okie, Gill is performing live during an intimate show — iHeartCountry ICONS with Vince Gill — in New York City on August 27th, and fans from all across the country will be able to tune in and watch live.
Okie is Gill's 15th album and follows 2016's Down to My Last Bad Habit. According to a press release, the new LP gets its name "from the once-derogatory term used to disparage migrants from Oklahoma to the nation's west coast during the Dust Bowl and Great Depression eras." In a statement, the Oklahoma native says of the new project, "I thought this was going to be a songwriter record, not a concept album. It wound up being more information than I'd envisioned. A friend sent me an email saying, 'You could have only written this record after living a 60-year-plus life.' He said, 'There's no struggle in these songs, just truth and your experience."
During iHeartCountry ICONS with Vince Gill, the country star will open up about his career, his new album Okie, and more during an exclusive Q&A hosted by Cody Alan, as well as perform some of his new music live among fan favorites.
How To Stream The Show
Fans can listen and tune in free for a video stream of the exclusive iHeartCountry ICONS with Vince Gill on Tuesday, August 27th at 7pm local time via LiveXLive.
Get pumped for the show and listen to some of Vince Gill's new music from Okie below.
Chat About iHeartCountry ICONS with Vince Gill: How to Watch Live