Normani Reveals Her Debut Solo Single Was Co-Written By Ariana Grande
By Hayden Brooks
August 12, 2019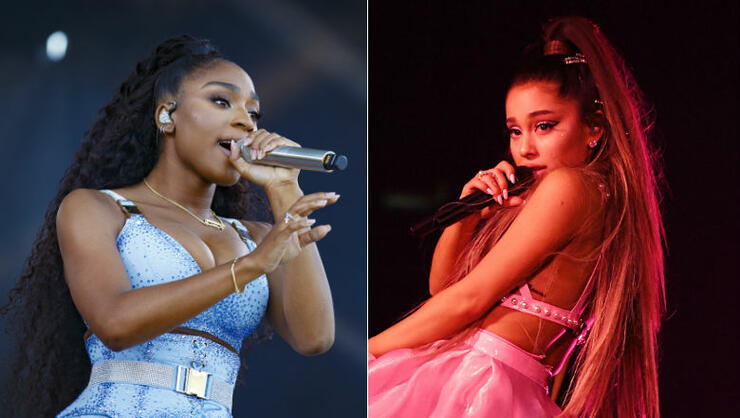 Normani's solo debut track, "Motivation," is set to drop on Friday (August 16) and the song features a co-writing credit from her former "Sweetener World Tour" tourmate Ariana Grande.
"She's been very supportive of me too. I talk to her about the creative process," the former Fifth Harmony bandmate told Rolling Stone about her relationship with Grande. "I'm like, 'When did you know your album was done?' She was just like, 'Honestly, you'll know. Nobody will have to tell you. You'll feel it. Just trust your instinct; trust your gut. And listen to that voice inside of you, and it'll tell you that you're done. Just take your time, too, and have fun in the process and make sure that it's something that you love.' She's dope. She also has a part in the record that I'm releasing, too. She wrote on it."
Normani also admitted that the upcoming single is a departure from her moody collaborations like "Love Lies" and "Dancing With a Stranger." "I recorded this song a while back," the 23-year-old singer said. "And it's crazy because, I'll be on Twitter, and [fans] will be like, 'Sis, where's the new music? Where's the new music? I'm like, 'Guys, it's coming. I promise it's coming.' I shot the video probably a month ago. It's going to be worth the wait…It's an upbeat [song]. It's a feel good record. I think that everybody will really love it. It was the first opportunity that I had to have fun. I think that people have been waiting for me to have fun and I've had so many records like 'Waves' and 'Love Lies' and Sam [Smith's 'Dancing With a Stranger'], which are a little bit more R&B smooth sailing."
Grande reciprocated the love with Normani on Twitter, reposting a clip of the singer's interview and writing, "i love u sm."
Chat About Normani Reveals Her Debut Solo Single Was Co-Written By Ariana Grande