Arizona Coyotes & iHeartMedia Announce Multi-Platform Agreement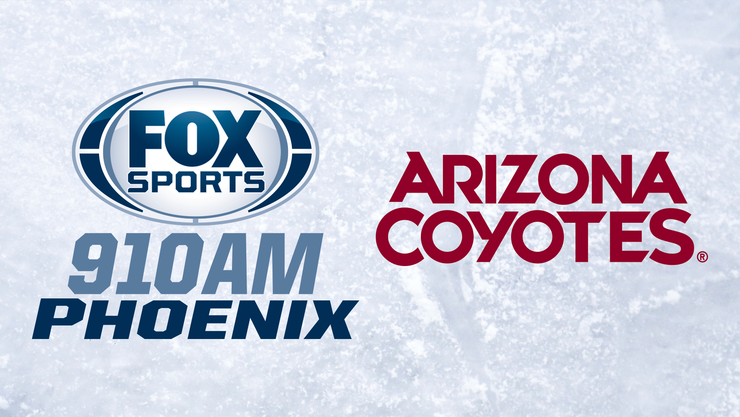 The Arizona Coyotes and iHeartMedia Phoenix announced today a new multi-platform broadcast and streaming agreement including Fox Sports 910 and iHeartRadio, becoming the flagship station for all Arizona Coyotes games. Also, under the new agreement, The Arizona Coyotes Audio Network will provide listeners with exclusive audio content available for Arizona Coyotes fans everywhere via the iHeartRadio app beginning October 3.
The Arizona Coyotes' 2019-20 regular season will begin on October 3 and all 82 regular season games, including two home preseason games against the Los Angeles Kings, September 17 and Anaheim, September 21 will be broadcast on Fox Sports 910 and will simulcast on Fox Sports 1450 AM in Tucson. For a full game schedule, listeners can visit the station's website.
"We are thrilled to partner with iHeartMedia Phoenix's Fox Sports 910," said Ahron Cohen, President & CEO for Coyotes. "As we strive to build and cultivate new Coyotes fans, this multi-dimensional partnership - including iHeartMedia's multitude of media platforms - provides us with unparalleled touchpoints to a broad cross-section of the Valley's population. Equally important is iHeart's ability to deliver an exceptional fan entertainment experience for all of our robust Coyotes content that will enhance our fans' connectivity to the team."
"The entire team at iHeartMedia is excited to be the new home for the Arizona Coyotes, especially at such an exciting time for the team," said Linda Little, Market President for iHeartMedia Phoenix. "Working together we will build our all-in agreement between the Arizona Coyotes and Fox Sports 910 across our entire iHeartMedia platform of well-known audio brands here in Phoenix and on our iHeartRadio app. Ahron Cohen and the entire team have been great to work with and we are excited for what we can do together."
Each game will include 30 minutes of pre-game coverage prior to the puck drop and 45 minutes of post-game coverage. The post-game show will include player interviews and a live broadcast of Coyotes Head Coach Rick Tocchet's press conferences. In addition, play-by-play announcer, Bob Heethuis, will return for his 15th season with the team as well as Coyotes' radio color analyst, Paul Bissonnette. The station will also air a variety of Coyotes shows featuring President & CEO, Ahron Cohen; President of Hockey Operations and General Manager, John Chayka; Head Coach, Rick Tocchet; and Analysts Tyson Nash and Paul Bissonnette. All interviews will be posted and available on the new official Arizona Coyotes Audio Network, a custom station on iHeartRadio, iHeartMedia's all-in-one digital music, podcast, on demand and live streaming radio service.
In addition, The Arizona Coyotes Audio Network will feature exclusive Coyotes audio content for fans. The network will be the only place to find additional Arizona Coyotes audio content including game replays and highlights, historical games, player and coach interviews and more. Listeners can access the network through the iHeartRadio app by searching for "Arizona Coyotes," or by streaming online. The new agreement also includes other joint promotional activations including on air, online and in-house at the arena. Games can also be streamed live on the Arizona Coyotes Audio Network via iHeartRadio.
About iHeartMedia Phoenix
iHeartMedia Phoenix owns and operates, KGME-AM, KFYI-AM, KZZP-FM, KESZ-FM, KNIX-FM, KMXP-FM, KYOT-FM, and KOY-AM, and is part of iHeartMedia. iHeartMedia is the number one audio company in the United States, reaching nine out of 10 Americans every month – and with its quarter of a billion monthly listeners, has a greater reach than any other media company in the U.S. The company's leadership position in audio extends across multiple platforms including more than 850 live broadcast stations; streaming music, radio and on demand via its iHeartRadio digital service available across more than 250 platforms and 2,000 devices including smart speakers, digital auto dashes, tablets, wearables, smartphones, virtual assistants, TVs and gaming consoles; through its influencers; social; branded iconic live music events; and podcasts as the #1 commercial podcast publisher globally. iHeartMedia also leads the audio industry in analytics and attribution technology for its marketing partners, using data from its massive consumer base. iHeartMedia is a division of iHeartMedia, Inc. (NASDAQ: IHRT). Visit iHeartMedia.com for more company information.
Chat About Arizona Coyotes & iHeartMedia Announce Multi-Platform Agreement