Disney Reportedly Considering A Sequel To 'Aladdin' Live-Action Remake
By Emily Lee
August 15, 2019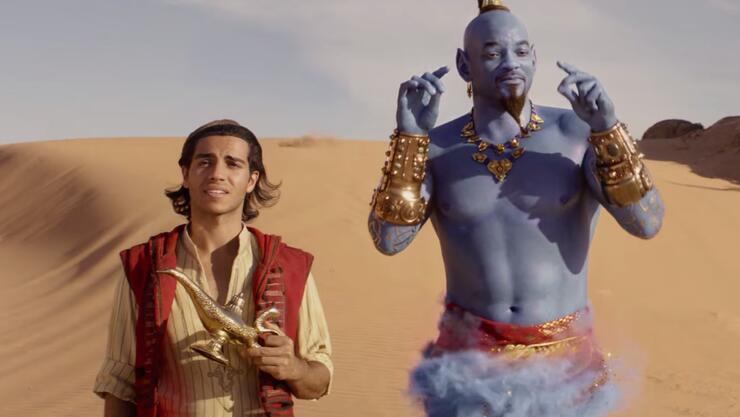 Did you know that the original, animated version of Disney's Aladdin has a sequel? Though not nearly as popular as the original film, The Return of Jafar exists and Disney is considering adapting it as a live-action film. Aladdin's producer Dan Lin spoke with Syfy Wire about this possibility, confirming we might see this sequel hit theaters in the future.
"We'd love to. People clearly loved the movie and watched it multiple times and we get lots of fan letters and people asking us to make Return [of] Jafar, and I can just tell you that we're in early stages right now, but we're certainly talking about another movie," Lin revealed. "Like with Aladdin, it will not be a straight remake of any movie that's been made before, so we're looking at 'where's the best way to go with these characters.' The audience response has really touched us in thinking about where we can go with these stories, and we feel like these characters have more adventures in store."
Considering the House of Mouse took home over $2.5 billion at the box office from live-action remakes of their classics, including Lion King and Dumbo, it's not surprising they're considering sequel options. Should they decide to adapt Return of Jafar, the film will tell the story of the villain's comeback. It's pretty intense story, TBH, involving Aladdin getting framed for the Sultan's (alleged) murder and Jafar taking over all of Agrabah.
Return of Jafar was released as the first direct-to-video Disney sequel and received mostly negative reviews. "It's clear right from the outset that Disney put very little effort into the production of The Return of Jafar, particularly in the realm of animation," film critic David Nusair of ReelFilm.com wrote of the sequel at the time. "The film has all the style and fluidity of a Saturday morning cartoon, while various songs are bland and forgettable. The repetitive storyline doesn't do the movie any favors, and even at a running time of 69-minutes, doldrums set in almost immediately."
If the animated sequel does end up getting adapted in live-action, perhaps the creative team will give it a much-needed update. Lin hopes director Guy Ritchie will return for the sequel, as well. "I think that's certainly the hope," he said. "He made this movie for his kids. … He certainly loved the experience, I think both he and Will Smith — even before the box office success, they said it was the best filmmaking experience of their lives and they had so much fun doing it. And we'd love to have Guy back and get the team back together. If we do another Aladdin movie, we'd certainly love to have him at the helm."
Do you want to see a live-action Aladdin sequel?
Photo: Getty