Fans Think There's An Insane Plot Twist Hidden In 'Last Christmas' Trailer
By Emily Lee
August 15, 2019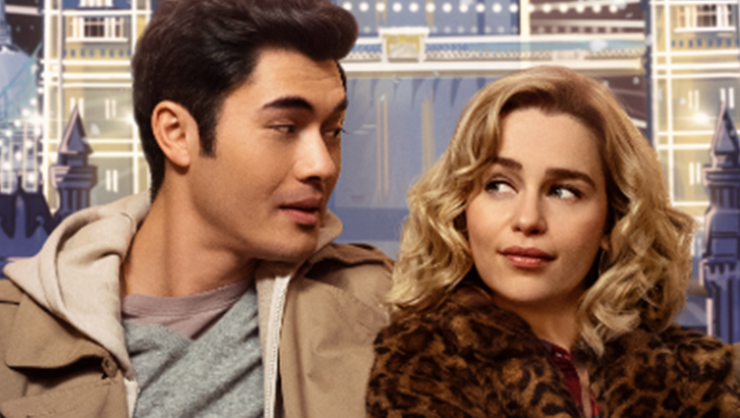 The rom-com renaissance is here. Hot off starring in the biggest rom-com in recent history (Crazy Rich Asians), Henry Golding is teaming up with Game of Throne's Emilia Clarke for the new holiday love story Last Christmas. Inspired by the music of the late George Michael, Last Christmas follows Clarke's character, Kate, a grumpy store-elf who's living her life in fear after surviving a life threatening illness. After Kate meets Golding's too-good-to-be-true Tom, the two start a sweet romance.
At first glance, Last Christmas might look like a paint-by-the-numbers, boy-meets-girl story, but fans suspect there's going to be an insane plot twist in the film. If you pay close attention to the trailer, there are some hints that Tom isn't really who he says he is. Well, actually, there are clues that Tom isn't actually real. Crazy, right? Maybe not. The film's poster and tag line reference beloved Christmas classic It's A Wonderful Life, which follows a man named George Bailey as he gets a glimpse of what they world be like if he never existed. An angel named Clarence, who never interacts with a single other character in the film, makes this vision possible.
First, let's watch the trailer. Remember, pay close attention:
henry golding doesn't speak to anyone but emilia clarke in that trailer. he also wears the same outfit multiple times. therefore, he is a ghost, or her conscience, or her guardian angel.

— alex (@alex_abads) August 14, 2019
It's based on the song Last Christmas so all I can think is that he literally gave her his heart. Like she had a transplant and he's definitely the ghost of her heart donor

— Katie Pacek (@kpacek330) August 14, 2019
my prediction is she needed a heart transplant & Henry Golding gave it to her - so he's dead & his mom wants to watch over her cuz it's a part of her son. So he literally gives her his heart. I'm gonna go cry now. As long as Emilia doesn't fucking die. #LastChristmasMovie

— HerSatanicMajesty🐲👑 (@JaeLynnGOT) August 14, 2019
Okay so I'm going to make a guess that Henry golding is a ghost/angel that has come back to earth to visit Emilia's character because she is the recipient of his heart. He's here to be a reminder to Emilia that she deserved to live and that she should live life to the fullest pic.twitter.com/DpifLJ1t6p

— Brittney Cottrell (@starsandgoggles) August 14, 2019
The most popular fan theory seems to be that Kate was the recipient of a heart transplant during her period of illness. The heart she received may have been Tom's and now she's being visited by his ghost. Remember: the movie is based on the song "Last Christmas," which boasts the lyric "last Christmas, I gave you my heart." Perhaps the movie is taking a very literal spin on the song?
Guess we'll just have to wait and see! Last Christmas hits theaters November, 8 2019.
Photo: Universal
Chat About Fans Think There's An Insane Plot Twist Hidden In 'Last Christmas' Trailer