Hear Tenille Townes' Reflective New Single, 'Jersey On The Wall'
By Blake Taylor
August 18, 2019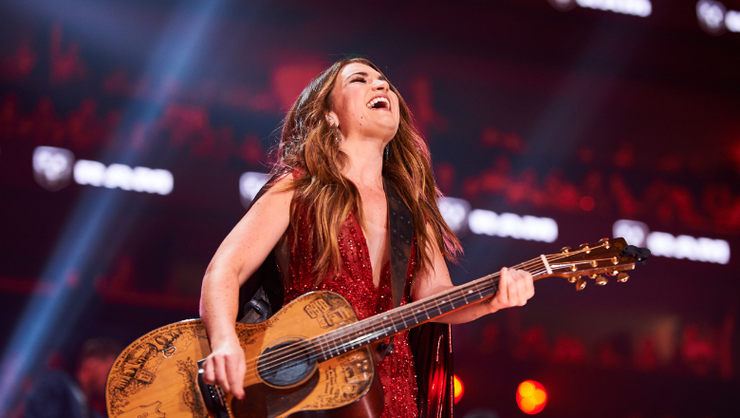 Tenille Townes captured the attention of many with the release of her moving debut single, "Somebody's Daughter." The song tells a real-life story of an experience that Townes had with a panhandler in Nashville. The empathetic and thought-provoking lyrics come together to create a truly powerful record.
Townes new single, "Jersey On The Wall," released on Friday (August 16) continues to tackle difficult subjects. This time, Townes touches on faith and how it's tested during various trials of life.
"If I ever get to heaven / you know I got a long list of questions," Townes sings. "Like how do you make a snowflake? / Are you angry when the earth quakes? / How does the sky change in a minute? / How do you keep this big rock spinning? / Why couldn't you stop that car from crashing? / Forgive me, I'm just asking."
Townes is the type of artist who views music as a way to connect with others on a deeper level. "Truly, that's what music is for me," Townes shares with Rolling Stone. "To make us feel less alone in what we are going through.Writing songs from a witness perspective is what I feel drawn to, that's the anchor of the mission for me."
Recently, Townes partnered with Brandi Carlile for Cracker Barrel's 50th-anniversary initiative, "Five Decades, One Voice." The two joined together for a special performance of Townes' "Somebody's Daughter" and Carlile's "Fulton County Jane Doe."
"That was the craziest day," Townes shares with Rolling Stone referring to the initiative. "I was losing my mind because I love her (Carlile) so much. We were sharing stories and her perspective and I said, 'What's the best advice you have gotten?' And she said, 'People telling me not to take other people's advice.' You have to follow your own gut. You can learn from people and take what you need, but it's gotta come from you."
Townes is currently out on the road opening up for Dierks Bentley this summer. Later in September, she'll join Miranda Lambert on her "Roadside Bars And Pink Guitars Tour."
Hear Townes' latest single, "Jersey On The Wall" below.
Chat About Hear Tenille Townes' Reflective New Single, 'Jersey On The Wall'