Maddie & Tae Recall Real-Life Heartbreak In 'Die From A Broken Heart' Video
By Blake Taylor
August 19, 2019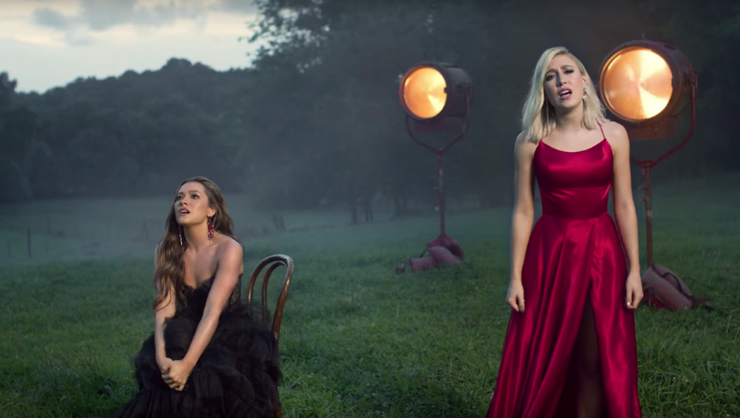 Maddie & Tae's latest single, "Die From A Broken Heart" asks a question I'm sure most of us have pondered at some point in life: Can you actually die from a broken heart?
While the answer is no, that doesn't mean sometimes it doesn't feel like it. The song was co-written by Taylor Dye and Maddie Marlow alongside Jonathan Singleton and Deric Ruttan just about two weeks after Dye's break up with Jackie Lee in 2017.
"We came up with this super-vulnerable phone call between us and our moms, and we just started talking about our heartbreaks, what those conversations sounded like and started putting that into the song." Marlow shared with People. "But I knew what Tae was going through, and so I was kind of trying to protect her from having to go super-deep to where it was going to ruin the day, but also let her heal a little bit through songwriting."
For the "Die From A Broken Heart" music video, Dye decided to open up about her own experiences wit heartbreak. "Everyone is about to get a front-row seat to my biggest heartbreak," Dye reveals.
The director of the music video, Carlos Ruiz, had the idea for Dye to act out the story of "Die From A Broken Heart" while Marlow was the musical narrator.
Dye actually enjoyed the acting experience noting she's "actually very passionate about acting." "I've always had a little bit of an itch for it," she shared with People."We wrote the song from such a personal space that I felt like I could really draw from that. And if this was to be my 'acting debut,' if you will then this would be the perfect story to tell."
You can watch the emotional music video for "Die From A Broken Heart" below.
Chat About Maddie & Tae Recall Real-Life Heartbreak In 'Die From A Broken Heart' Video