Old Dominion's New Song 'My Heart Is A Bar' Is An Anthem For The Lonely
By Blake Taylor
August 19, 2019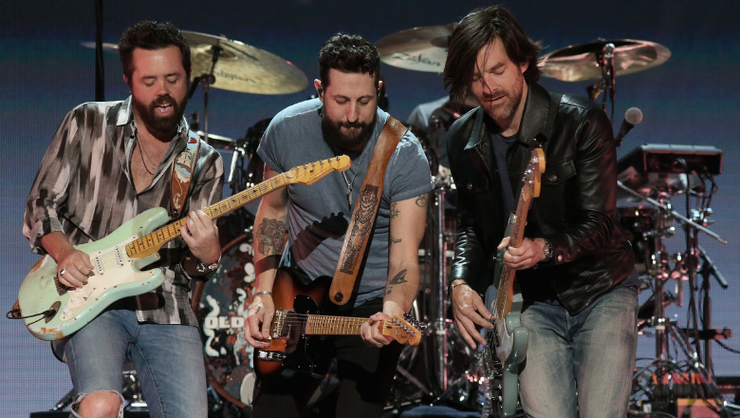 Old Dominion just released another song off their self-titled third studio album titled "My Heart Is A Bar."
This song, which dropped on Friday (August 16), was written from the heart of a person who has had it with love. They are tired of feeling lonely and opening their heart up just to be used again. "The bar" really meaning their heart is closing down for good this time.
"I've taken my last fall / I'm making my last call / My heat is a bar, and I'm closing down / So find somewhere else to get drunk in this town / I'm tired of being a shoulder and never having one around," lead singer, Matthew Ramsey, sings.
In a post shared on Twitter the group writes, "This song might be the loneliest sing a long of all time. It's a song about feeling alone and used and pissed off at love."
Old Dominion has now shared five new songs from their forthcoming album. Other previously released songs include the group's lead single and No. 1 hit, "Make It Sweet," "Some People Do," "One Man Band," and "Never Be Sorry."
To coincide with the new song, the band also shared the music video for "My Heart Is A Bar," which you can see below. The band is out on the road for their "Make It Sweet Tour" with shows lined up all the way through early January 2020. Grab your tickets here.
The band's new album is set to arrive this fall on October 25.
Old Dominion Track List:
"Make It Sweet"
"Smooth Sailing"
"One Man Band"
"Never Be Sorry"
"My Heart Is A Bar"
"Midnight Mess Around"
"Do It With Me"
"Hear You Now"
"I'll Roll"
"American Style"
"Paint The Grass Green"
Some People Do"