Carrie Underwood To Host CMA Awards With Dolly Parton And Reba McEntire
By Blake Taylor
August 19, 2019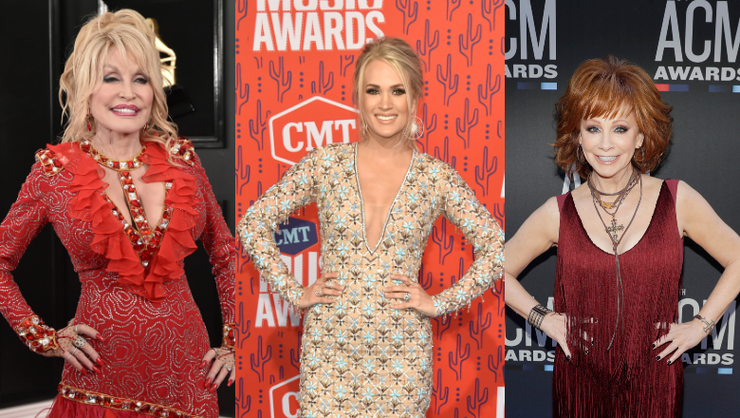 The 53rd Annual CMA Awards will return to Nashville on November 13, this time though, with a new group of hosts.
Carrie Underwood is back again serving as host for the 12th consecutive year, except this time she won't have long time co-host, Brad Paisley by her side. Instead, joining Underwood on stage will be special co-hosts, Dolly Parton and Reba McEntire celebrating the iconic women of country music.
"It's an incredible honor to welcome Carrie, Reba, and Dolly to the CMA Awards stage this year," says Sarah Trahern, CMA Chief Executive Officer, in a statement. "In addition to awarding the years best and brightest in the genre, 'The 53rd Annual CMA Awards' will celebrate the legacy of women within Country Music, and we couldn't think of a more dynamic group of women to host the show."
According to a press release, Underwood, McEntire, and Parton have a total of 124 CMA Award nominations and 22 wins, 11 of which are for "Female Vocalist of the Year," between the three of them.
Parton took to Instagram to share her excitement for the big night."Talk about girl power," she writes in the caption. "I'm so excited to be joining @carrieunderwood and @reba to celebrate the legendary women of country music as a guest host of this year's #CMAawards on November 13."
Final nominees for The 53rd Annual CMA Awards will be announced on Wednesday August 28 live during ABC's Good Morning America.
The 2019 CMA Awards will air on ABC at 8PM ET on November 13.
Chat About Carrie Underwood To Host CMA Awards With Dolly Parton And Reba McEntire