YouTuber PewDiePie Marries Longtime Love Marzia Bisognin: See The Photos
By Regina Star
August 20, 2019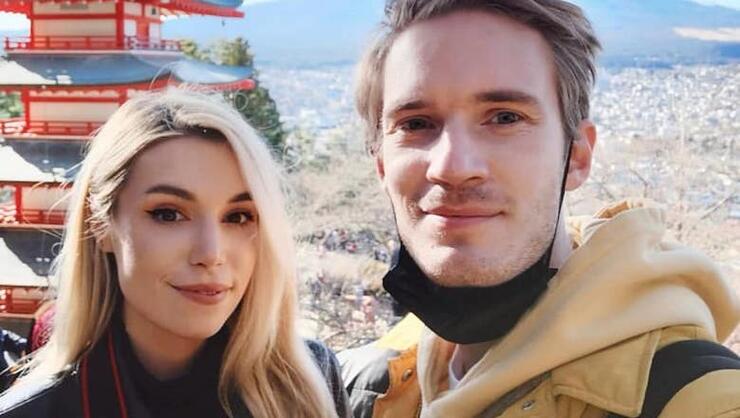 PewDiePie is a married man!
The famous YouTube sensation, whose real name is Felix Kjellberg, tied the knot with his longtime sweetheart Marzia Bisognin on Monday (August 19), the Swedish internet star announced on Twitter this morning. "We are married!!!" he tweeted along with photos from their walk down the aisle. "I'm the happiest I can be. I'm so lucky to share my life with this amazing woman."
According to the Mirror Online, PewDiePie and his love wed in front of their closest friends and family in a romantic garden-themed ceremony at Kew Gardens in London.
For the occasion, the 29-year-old — who boasts the most subscribers on YouTube to date with over 99 million fans — dressed in all-black wedding attire, matching a black tux, tie and pants. Bisognin, a retired beauty vlogger, looked gorgeous in an off-white, long-sleeve corset-style gown with lace detail at the hips as she carried a bouquet of pink roses and margarita daises.
"It was the most beautiful day, which I will treasure forever," Bisognin wrote on Instagram along with a set of wedding photos. "I am so thankful for all the people that made time to attend the event and helped us celebrate our marriage. I feel like I'm the luckiest person and I'm so full of love. Incredibly ecstatic to be able to call Felix my husband for the rest of our lives."
The newlyweds, who met via a mutual friend back in 2011, celebrated their engagement in April 2018, after PewDiePie proposed during their vacation in Japan.
Congrats to the happy couple!
Photo: Instagram/PewDiePie
Chat About YouTuber PewDiePie Marries Longtime Love Marzia Bisognin: See The Photos