Universal Music Group Never Investigated Vault Fire Until Artists' Lawsuit
By Andrew Magnotta @AndrewMagnotta
August 21, 2019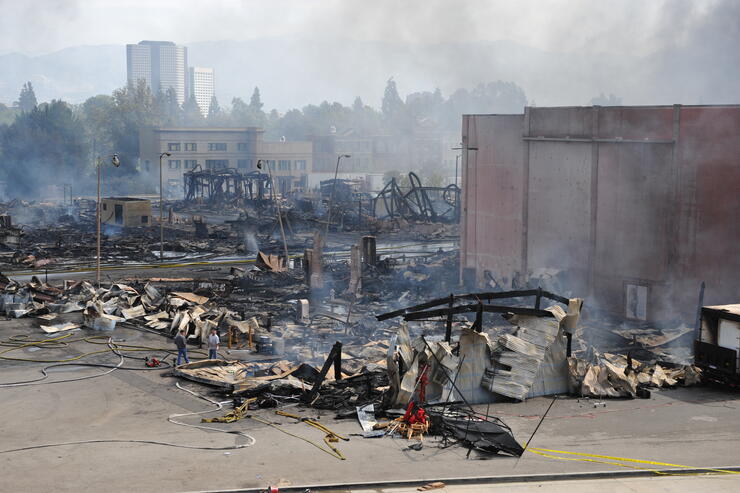 Universal Music Group never bothered investigating the reportedly devastating 2008 fire in its archive until June's bombshell New York Times Magazine investigative report, says an attorney spearheading the lawsuit against the record company.
The NY Times Magazine reported that the fire tore through the record label's archive of master tapes, incinerating up to 500,000 works from some of the most consequential artists in pop, rock, hip-hop, country, jazz and blues history.
In the aftermath of the report, as questions and complaints from artists accumulated, UMG assured the public that it would work closely to give artists the "transparency" they deserved.
Following a class action lawsuit filed on behalf of artists who believed their life's work had been obliterated, UMG issued an update to the suit asserting that "many of the artists named in the lawsuit [did not have works] lost in the 2008 fire." The statement also pledged that UMG would "not be distracted" by the lawsuit and would instead focus on communicating with its artists about the status of their catalogs.
Attorney Ed McPherson scoffed at UMG's suggestion that the lawsuit contained "baseless claims" in an exceptionally sarcastic statement he issued in response.
"Well, isn't it great!" McPherson wrote. "After 11 years of assuring artists that basically nothing was lost in the fire, UMG is actually conducting an investigation to what was lost in the fire."
McPherson also targeted UMG's refrain of "full transparency," asking why it has redacted documents related to the case.
"Why don't you give the plaintiffs any unredacted documents, including those showing how your loss was evaluated?" he wondered. "And why have you filed a motion to stay all discovery in the case until Nov. 4?"
UMG claimed in July that fewer than two dozen master tapes were lost in the fire and that there was never a "god list," containing records of all the losses, as was suggested in the NY Times Magazine investigation.
The lawsuit against UMG alleges the masters were stored in a "fire trap" and that Universal obfuscated questions about the disaster so it could keep millions of dollars in insurance money.
The first major bout between the plaintiffs and UMG will likely be over the truth of what was burned in the fire.
Photo: Getty Images