Harry Styles Bites Off Tip of Tongue While Doing Mushrooms
By Taylor Fields
August 26, 2019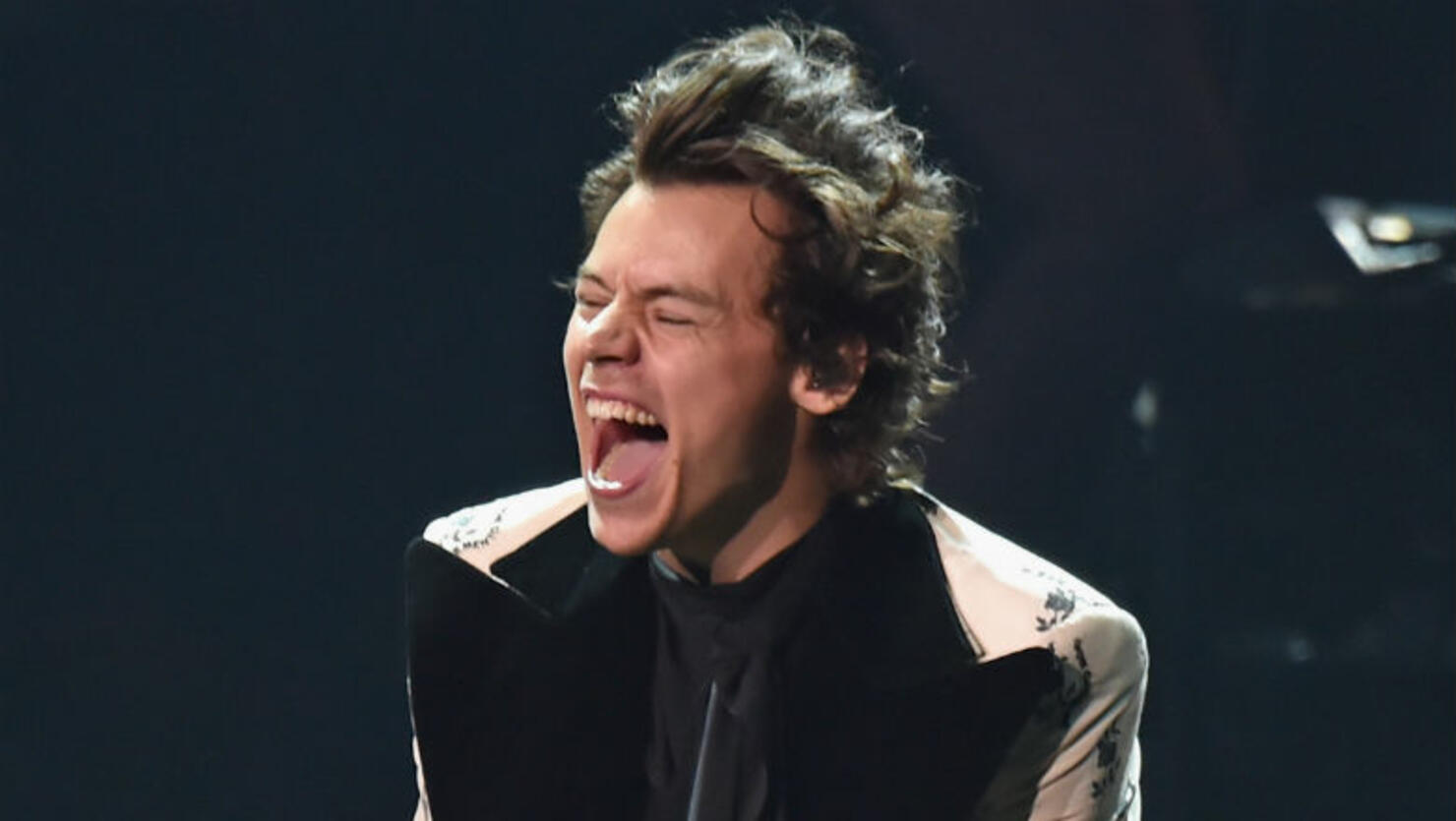 Harry Styles is prepping his yet-to-be-titled second full-length studio album — the followup to his self-titled debut in 2017 — and he shared many details of what fans can expect in his new Rolling Stone cover story.
The 25-year-old explained that his forthcoming project is "all about having sex and feeling sad," and later on revealed a little behind his creative process, which includes indulging in some "magic mushrooms." Styles explains to interviewer Rob Sheffield as they walked into the Shangri-La studios in Malibu, where he recorded much of his album, "Ah, yes. Did a lot of mushrooms in here." He added, "We'd do mushrooms, lie down on the grass, and listen to Paul McCartney's Ram in the sunshine. We'd just turn the speakers into the yard."
Harry also recalled biting off the tip of his tongue while using the psychedelic. He said, pointing to a corner at the studio, "This is where I was standing when we were doing mushrooms and I bit off the tip of my tongue. So I was trying to sing with all this blood gushing out of my mouth. So many fond memories, this place."
Read on below for a few other bombshells we learned form Harry's Rolling Stone interview:
He lost his wallet and pants at the beach ... and someone actually anonymously mailed him back his wallet.
"There was one night where we'd been partying a bit and ended up going down to the beach and I lost all my stuff, basically. I lost all my clothes. I lost my wallet. Maybe a month later, somebody found my wallet and mailed it back, anonymously. I guess it just popped out of the sand. But what's sad is, I lost my favorite mustard corduroy flares."
He's not closing the door on a One Direction reunion just yet.
"I don't think I'd ever say I'd never do it again, because I don't feel that way. If there's a time when we all really want to do it, that's the only time for us to do it, because I don't think it should be about anything else other than the fact that we're all like, 'Hey, this was really fun. We should do this again.' But until that time, I feel like I'm really enjoying making music and experimenting. I enjoy making music this way too much to see myself doing a full switch, to go back and do that again. Because I also think if we went back to doing things the same way, it wouldn't be the same, anyway."
His breakup with French model Camille Rowe had a big impact on him while making the album.
His collaborator Tom Hull recalled, "He went through this breakup that had a big impact on him. I turned up on Day One in the studio, and I had these really nice slippers on. His ex-girlfriend that he was really cut up about, she gave them to me as a present — she bought slippers for my whole family. We're still close friends with her. I thought, 'I like these slippers. Can I wear them — is that weird?' So I turn up at Shangri-La the first day and literally within the first half-hour, he looks at me and says, 'Where'd you get those slippers? They're nice.' I had to say, 'Oh, um, your ex-girlfriend got them for me.' He said, 'Whaaaat?How could you wear those?' He had a whole emotional journey about her, this whole relationship. But I kept saying, 'The best way of dealing with it is to put it in these songs you're writing.'"
Fans can check out the rest of Harry's cover story via Rolling Stone.