Beyonce, Rihanna & Taylor Swift Are The Highest-Paid Women In Music
By Lauren Crawford
August 27, 2019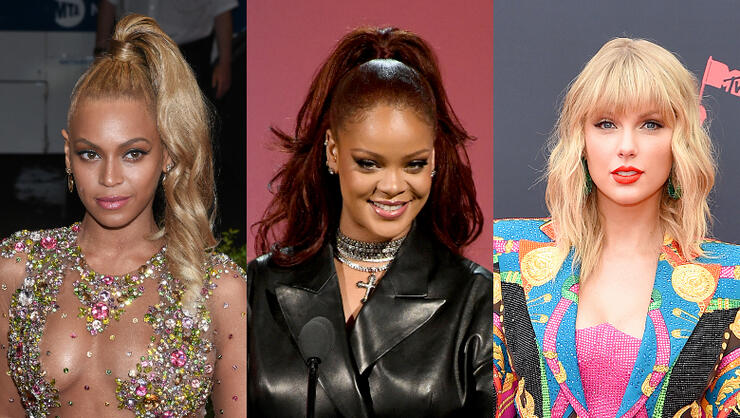 Who run the world?! GIRLS!
On Monday (August 26), Forbes released its World's Highest-Paid Women in Music list and let's just say, our favorite ladies are getting paid!
Taylor Swift topped the list of ten female performers, earning $185 million before taxes between June 2018 and June 2019. The massive sum — which is in large part due to her "Reputation Tour" that brought in $266 million — allowed her to surpass last year's top earner Katy Perry.
Beyoncé earned the number two spot on this year's list, moving up a spot from 2018. Queen Bey brought in an impressive sum for the year, earning a whopping $81 million (you know, chump change) thanks to her "On The Run II Tour" with her husband Jay-Z and her Homecoming live album and Netflix special.
Taking the third spot for the highest-paid woman in music was none other than Rihanna, who pulled in $62 million in the last year, most of which coming from her Fenty Beauty joint venture with LVMH.
Taylor's crowning as the highest-paid woman in music shouldn't come as a surprise given the fact that she topped Forbes list of Highest-Paid Celebrities last month. Her whopping $185 million put her ahead of #2 Kylie Jenner, #3 Kanye West, #4 Lionel Messi, and her good friend Ed Sheeran, who took the #5 spot.
To see the full list of "The World's Highest-Paid Women In Music 2019," keep scrolling!
The World's Highest-Paid Women In Music
10. Shakira
Earnings: $35 million
9. Celine Dion
Earnings: $37.5 million
8. Lady Gaga
Earnings: $39.5 million
Earnings: $43 million
Earnings: $48 million
5. P!nk
Earnings: $57 million
4. Katy Perry
Earnings: $57.5 million
3. Rihanna
Earnings: $62 million
2. Beyoncé
Earnings: $81 million
1. Taylor Swift
Earnings: $185 million
Photos: Getty Images
Chat About Beyonce, Rihanna & Taylor Swift Are The Highest-Paid Women In Music