Demi Lovato To Guest Star On Final Season Of 'Will & Grace'
By Hayden Brooks
August 27, 2019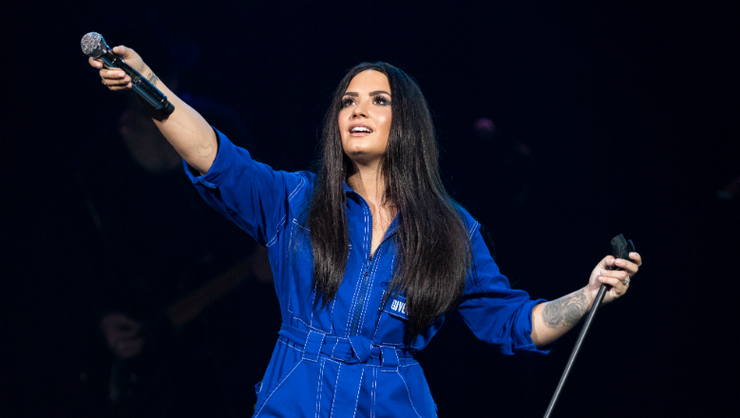 After it was announced that Demi Lovato will appear in the Netflix film, Eurovision, word has spread that the comeback kid has also been cast in the final season of NBC's Will & Grace.
As per EW, the star is set to play the role of Jenny, a guarded female who comes into Will's life in an unexpected way. Lovato is scheduled to appear in three episodes during the 2020 season. Simultaneously, the star took to Instagram to share a photo of her on set of the famed living room from the series.
In late July, it was announced that Will & Grace is coming to an end (once again). According to a report from the Hollywood Reporter, the final season will consist of another round of 18 episodes and debut in 2020 in NBC. The decision to end the revived series arrived after the creators and cast came to a mutual consensus. While the show, which featured original stars Debra Messing, Eric McCormack, Sean Hayes and Megan Mullally, lost nearly half its viewers among the advertiser-coveted adults 18-49 demographic last season, the series' journey to this point has been nothing but phenomenal. Initially started as a short video to promote Hillary Clinton's presidential campaign, the revived sitcom was picked up as a short-order limited series, expanded with more episodes and eventually ordered as a second season.
"When NBC had the opportunity to reconnect this amazing cast and creative team, we jumped at the chance. The impact and legacy ofWill and Grace simply can't be overstated, both as a true game-changer in the portrayal of the LGBTQ community and as one of the finest comedies in television history," NBC Entertainment co-chairmen George Cheeks and Paul Telegdy said in a statement. "A huge thank you to [creators] Max [Mutchnick], David [Kohan], Jimmy [Burrows] and a cast that is second to none for their brilliance over an incredible run."