Meghan Markle, Prince Harry & Archie Spotted Having Low-Key Lunch At A Pub
By Emily Lee
August 28, 2019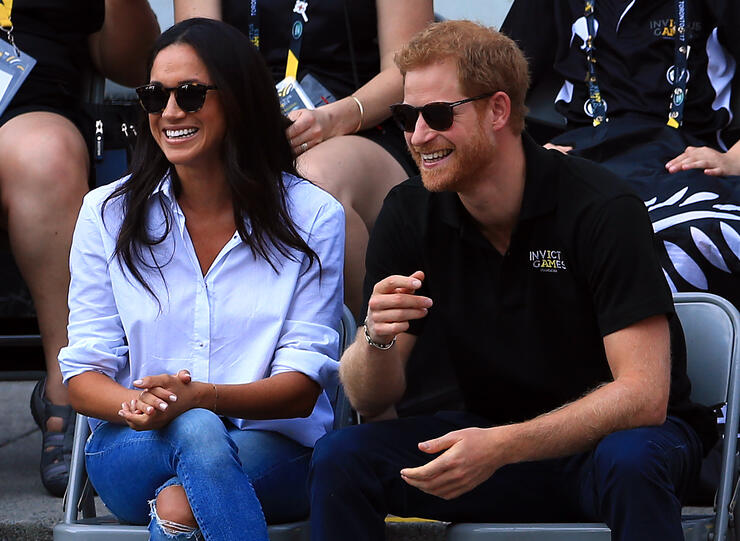 Royals...they're just like us!
Prince Harry and Meghan Markle were spotted enjoying a super casual, low-key pub lunch over the weekend. The Duke and Duchess of Sussex's son Archie was also there, though he probably didn't get to munch on the Sunday Roast his parents reportedly ordered. This royal sighting happened at Rose & Crown in Winkfield, Berkshire.
Though there are no photos of the happy family's lunchtime outing, onlookers spoke to The Daily Mail and The Sun about running into the royals. Harry reportedly enjoyed a few pints of beer with this lunch, while Meghan stuck to water. One onlooker also revealed Meghan spent most of lunch cradling baby Archie. How sweet is that? Harry, Meghan and Archie were also accompanied by royal protection officers, as well as a private secretary.
"They were on a table with, I presume, a private secretary," the onlooker explained. "Meghan was cradling Archie most of the time. The little lad was as good as gold, I didn't hear him cry once while he was there. No other customers recognized them. The staff clearly knew who they were but kept the service low-key."
The source went on to say Harry and Meghan appeared to have "been there before. They just chatted away like any normal couple and were laughing a lot. After the controversy they have been attracting, they were getting their feet back on the ground with pub grub like millions of ordinary folk—and it was nice to see."
After the onslaught of criticism Harry and Meghan have faced this summer for traveling via private jets, it must have been nice for them to relax and enjoy a casual lunch together as a family.
Photo: Getty
Chat About Meghan Markle, Prince Harry & Archie Spotted Having Low-Key Lunch At A Pub