Amber Rose Strips Down For Sexy NSFW Pregnancy Photo
By Peyton Blakemore
August 29, 2019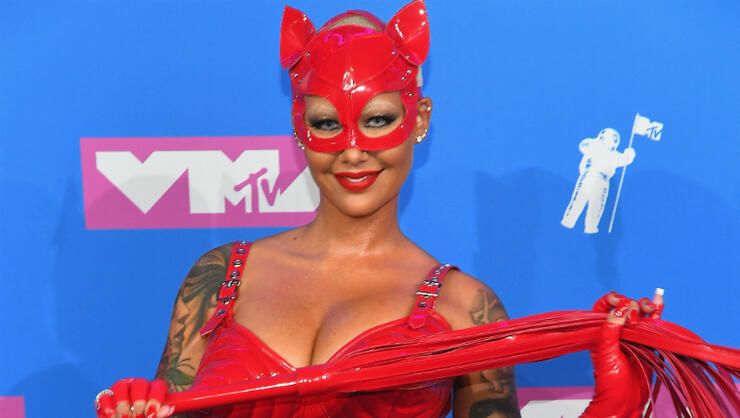 Amber Rose is one hot mama!
On Wednesday (August 28), the pregnant model showed off her growing belly while promoting a bikini line. "#ad When ur 8 months Pregnant but Hoe is still life 🤷🏼‍♀️😘 @mattecollection," she captioned a photo of her wearing a sexy animal print bikini that put her growing baby bump on full display.
As Amber noted, she is just a few weeks away from giving birth to her second child, first with her boyfriend Alexander "AE" Edwards. The couple is expecting a baby boy. He will join Amber's six-year-old son, Sebastian Taylor Thomaz, who she shares custody with her ex-husband Wiz Khalifa.
Earlier this month, the pregnant SlutWalk creator discussed her different approach to her pregnancy this time around, explaining that she's focusing on her wellbeing and avoiding all toxicity — specifically when it comes to "fake friends." Amber made the declaration while announcing that she canceled her annual Los Angeles SlutWalk, which calls for an end to rape culture, including victim blaming and slut shaming of sexual assault victims, this year.
"So me. I stopped being friends with about 20 ppl last year. I've had friends steal jewelry and money from me, Sleep with my BF's behind my back, Male friends lying and telling people we were sleeping together, Alcoholic drug addict friends, Abusive Friends, Toxic Personality friends and I even had a Friend call Social Services on me twice ( For no f**king reason) only to Sue me for calling her and Cursing her out (When I found out it was her) smh," Amber shared on Instagram. "That Phone call cost me $168,000... Man, the list goes on you have no idea."
"The funny thing is I never snitched publicly on anyone," she added. "Ain't that some sh*t? People may not know this but I'm extremely unproblematic. I don't start fights. I don't do drugs. I'm as sweet as pie and constantly get walked all over. I'm so happy God has blessed me with a New Baby and an Amazing Man to help me through all the turmoil. That's why I've been laying so low during this pregnancy.... no Toxicity will be tolerated over here only Positive vibes."
"F**k fake friends and their weirdo sh*t. I'd rather just have my family and my team," the expecting mom continued, before giving the unexpected update about this year's SlutWalk. "This is also why I'm not having my Slutwalk this year.... Sorry I just have to protect my energy and peace."
Photo: Getty Images
Chat About Amber Rose Strips Down For Sexy NSFW Pregnancy Photo