Eminem Pens Cryptic Tweet, Fans Think He Might Be Dropping Diss Track Soon
By Peyton Blakemore
August 29, 2019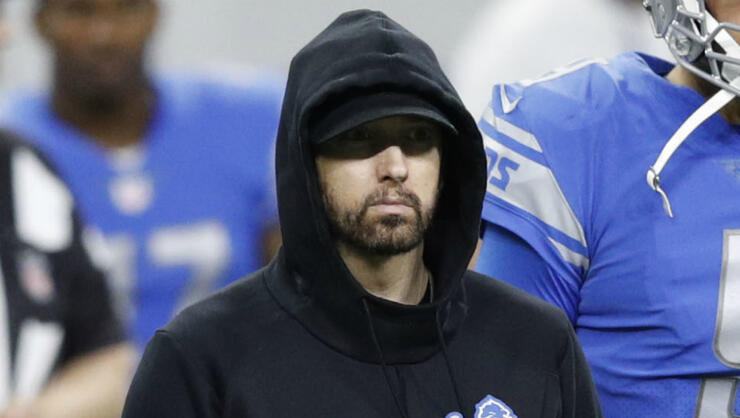 Eminem... we don't want no problems, big fella.
On Wednesday (August 28), the "Remember The Name" rapper sent out a cryptic tweet that got the Internet talking. "People think they want this problem 'til they get it," Eminem wrote, causing fans to speculate that he could be preparing to release a diss track, given his on-going drama with Lord Jamar.
As fans know, the Brand Nubian rapper took shots at Eminem in a recent VLADTV interview, saying, amongst other things, that black people don't listen to the Detroit rapper. "We don't listen to Eminem. We don't go to the gym and turn on Eminem," he said. "We don't listen to him on the way to the club. We don't play him in the club...now, corny places I can't speak for that."
Following the airing of the interview, Eminem's friend and collaborator Royce Da 5'9" took to Instagram to defend Em, saying, "Lord Jamar—you a legendary rapper. You're a part of a legendary rap group. It's like you're going in there sitting on [DJ Vlad's] couch, sitting in this man's chair, and you running up all these views because you have all this controversial sh*t to say about one f**kin' person and he walks away with the check and you walk away craving attention. Of course, Royce's comments led to Jamar firing back in an Instagram post of his own
"The reason why he would call me a 'legend' and my group 'legendary' is because when Brand Nubian came out, our debut album received five mics in The Source," Jamar said. "A lot of people got knowledge of self through f**kin' with our music. That's what makes Brand Nubian so legendary. Why dude would even start out his whole rant about that and say that so thank you and respect for acknowledging what I've done in this game as a legend. Thank you. I appreciate that."
People think they want this problem 'til they get it.

— Marshall Mathers (@Eminem) August 28, 2019
As fans noted, Em and Jamar's beef goes beyond the VladTV interview. In fact, Eminem dissed Jamar on his track "Fall" from his 2018 album Kamikaze. "And far as Lord Jamar, you better leave me the hell alone/Or I'll show you an Elvis clone/Walk up in this house you own, thrust my pelvic bone/Use your telephone and go fetch me the remote/Put my feet up and just make myself at home/I belong here, clown, don't tell me 'bout the culture," Eminem rapped.
Guess we'll have to wait and see if we get an Eminem diss track on Friday (August 30)!
Photo: Getty Images
Chat About Eminem Pens Cryptic Tweet, Fans Think He Might Be Dropping Diss Track Soon