Milwaukee Issues Health Alert, Urges Residents to Stop Vaping "Immediately"
By R.J. Johnson - @rickerthewriter
August 29, 2019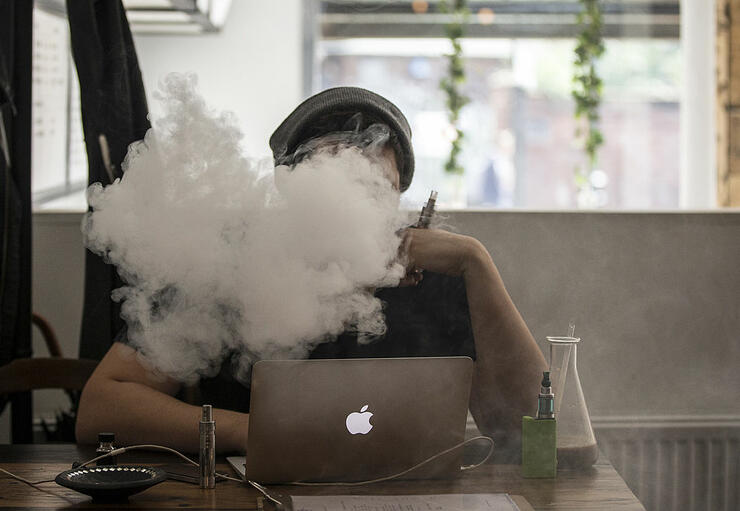 The city of Milwaukee has issued a health alert urging residents to stop vaping "immediately" after more than a dozen people were hospitalized over the last month with severe lung disease.
According to the release from the City of Milwaukee's Health Department, individuals began experiencing their symptoms after using vape products or dabbing - a method of smoking concentrated THC oils, extracts and concentrates. The patients were diagnosed with severe chemical pneumonia, which can occur after inhaling or aspirating irritants, the press release said.
The specific products used by the individuals who were hospitalized were not named in the release.
"We continue to learn more about the health effects associated with e-cigarettes. As the public health authority for the city, the MHD is committed to protecting the public from the dangers of secondhand exposure," Commissioner of Health Dr. Jeanette Kowalik said.
Residents are being urged to cease using any THC products that contains e-liquid.
The Health Department added that anyone with the following symptoms and had used vaping products in the past should contact their doctor immediately.
Cough
Shortness of breath
Fatigue
Fever
Anorexia
Pleuritic chest pain
Nausea
Diarrhea
Earlier this month, the U.S. Centers for Disease Control and Prevention said they had become aware of a "cluster" of 153 cases of severe lung disease that could be linked to e-cigarette use or vaping THC.
Symptoms start gradually, the agency said, with people reporting difficulty breathing, shortness of breath, and/or chest pain before hospitalization. The illnesses typically present as a bad respiratory infection, but doesn't get better with normal antibiotic treatment. Other patients have also reported some mild to moderate gastrointestinal illnesses, including vomiting and diarrhea.
There are no known deaths at this time, the agency said.
Some patients have developed severe, progressive lung disease with some even requiring mechanical breathing assistance.
Photo: Getty Images
Chat About Milwaukee Issues Health Alert, Urges Residents to Stop Vaping "Immediately"