Billie Eilish Shares Nightmarish 'All The Good Girls Go To Hell' Video
By Katrina Nattress
September 4, 2019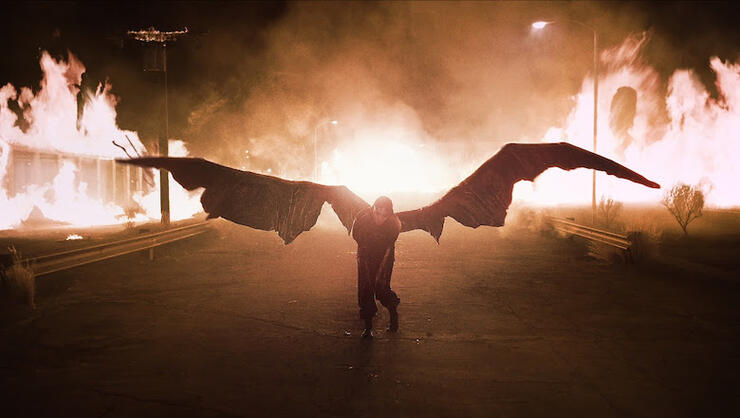 On Wednesday (September 4) Billie Eilish dropped her video for "all the good girls go to hell," and unsurprisingly it's terrifying. The visuals seems to follow a similar story to "Bury a Friend." It begins with Billie's back getting stabbed with syringes (like in the previous video), only this time we see what happens when she gets injected with whatever's in the needles. She sprouts long angel wings but immediately plummets from the sky. When she lands on solid ground, she sinks into a tar pit, and upon pulling herself out creates a fire path of destruction in her wake. Also, check out her eyes — they're the same blank pools of black that we've seen in other visuals.
Watch the nightmarish "all the good girls go to hell" video below.
Billie will be making her Saturday Night Live debut later this month, as she's set to perform during the show's 45th season premiere on September 28.
A week before, she'll be performing at this year's Daytime Stage at the iHeartRadio Music Festival in Las Vegas on September 21st alongside a lineup of incredible rising stars. A lineup of superstars are also set to perform on the main stage at T-Mobile Arena throughout the weekend, and fans across the country can tune in and watch an exclusive live stream of the show via The CW App and CWTV.com. Then, on October 2nd and 3rd, relive all of the epic performances from the weekend during a televised special on The CW Network at 8pm ET/PT. And leading up to the official television special, The CW will also air an hour-long Best Of Special on Sunday, September 29th at 8 p.m. ET/PT.
Photo: YouTube
Chat About Billie Eilish Shares Nightmarish 'All The Good Girls Go To Hell' Video