Jake Owen, Thomas Rhett, Darius Rucker Share Game Day Secrets
By Lauryn Snapp
September 4, 2019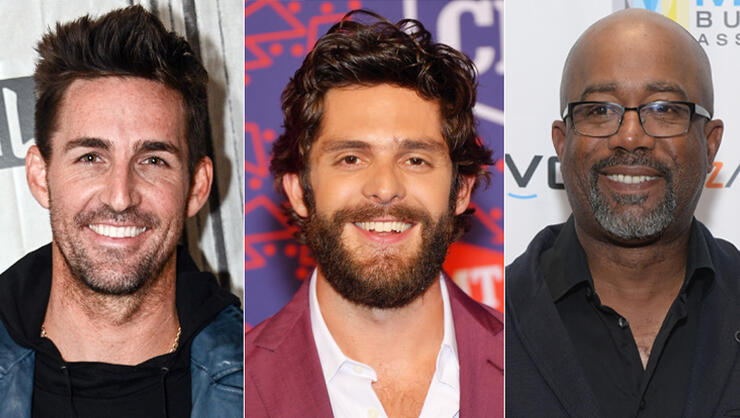 Jake Owen, Thomas Rhett, and Darius Rucker are geared up for the season. In recent interviews with Cody Alan, the three stars shared their game plan for game day and some superstitious habits that they keep.
Jake Owen:
"We have TVs on the bus, but usually it's kind of like getting home on a Sunday mid-morning," Jake continues. "If I go into the house and tell Erica that I am going to go watch football with the boys, it usually doesn't go over so well when I've been gone all weekend. But, I do try and watch as many games as I can come Sunday. It's a lot of fun."
Thomas Rhett:
"An average Saturday would be on the road. I wake up and stay on the bus to watch game day all day, and when Georgia plays, man, I wear my jersey, and then on the fourth down I put my helmet on," laughs TR. "It's kind of a superstitious thing."
Darius Rucker:
"I love it so much, and I love watching it that, ugh, it's hard to get me to go on stage," Darius admits. "It's hard to get me motivated, once you hit the stage you're fine, but to get me away from that game that's in the middle of the 4th quarter, I'm always like "Five more minutes," and they're like, "No we gotta go now." It affects me a lot. I watch football like religion."
Do you like stories like these? Bookmark www.CMTCODY.com and check back daily for artist exclusives and the very best in country music news.
Photo Credit: Getty Images.
Chat About Jake Owen, Thomas Rhett, Darius Rucker Share Game Day Secrets