Why did Trump hold up old Dorian forecast?
By @CoryUpdate
September 4, 2019
On Sunday, Trump tweeted a list of states that "will most likely be hit (much) harder than anticipated" by Hurricane Dorian that included Alabama. That was wrong, Alabama was not going to fill the effects of Dorian. And when a president tells people that they may bit hit (much) harder by what was expected to be at the time a catastrophic storm, they pay attention and alter their lives accordingly. The National Weather Service in Alabama tweeted that there was no danger.
Flash forward to Tuesday, with Trump giving an update on Hurricane Dorian; he update included a recap of where they thought last week Dorian was going to go... And it included a little extra something for Alabama.
Why is he talking about where they thought the hurricane was going last week... *zooms I'm on picture to see they drew a black line around a corner of Alabama to try and prove he's not an idiot for saying #Dorian is headed for Alabama pic.twitter.com/xK4KVScKPl

— The Dumpster Fire (@TheDFShow) September 4, 2019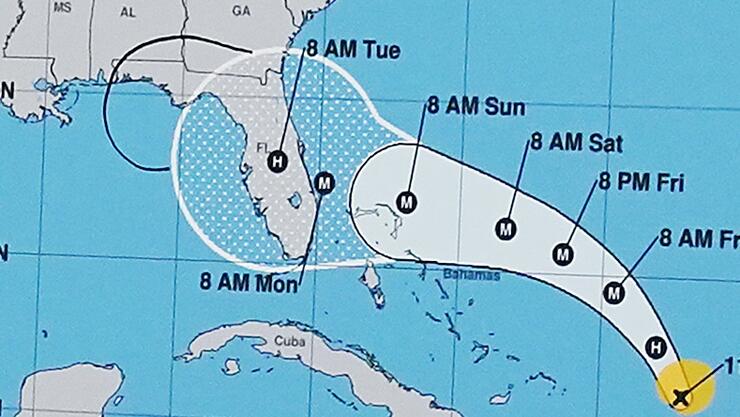 Is that black line Sharpie?
When asked Trump just said, "I don't know, I don't know, I don't know," and promised a better map was on it's way.
Would it have been so hard to get another poster made, expand the white line just a bit...
My best guess is that Trump didn't actually draw this line on, or order someone to; that's even beyond his dumbassery; I think a bunch of aides were sitting around, talking about the Alabama tweet, and one took an old map, that they never thought would be used again because the forecast has changed so much that no President would ever revisit it, and jokingly drew the line and said, "Fixed it." And they all laughed.
Or it's another USS John McCain where an aide was trying to kiss his ass by doing something they knew their super petty boss would love.
Either way... dumpster fire.
Cory
Photo Credit: Getty Image
Follow me on Twitter @CoryUpdate
Follow The Dumpster Fire podcast on Twitter @TheDFShow
And listen to past episodes of The Dumpster Fire on iHeartRadio or wherever you get your podcasts
Chat About Why did Trump hold up old Dorian forecast?