'Grace and Frankie' Makes Netflix History With Season 7 Renewal
By Paris Close
September 5, 2019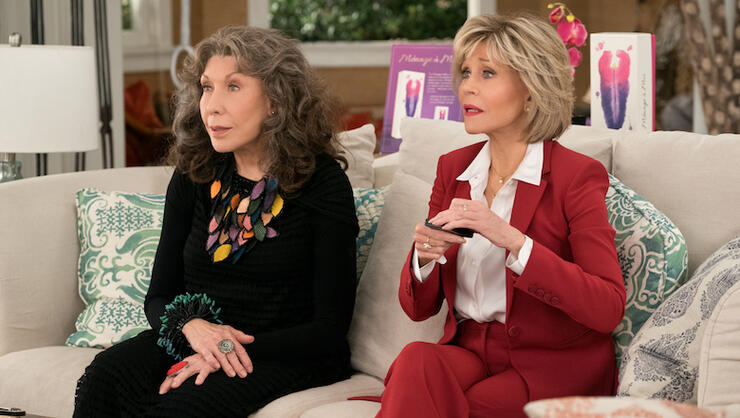 Grace and Frankie just made history!
The sitcom, starring Jane Fonda and Lily Tomlin, just became Netflix's longest-running series to date as the streaming service recently renewed the show for its seventh and final season. "It's thrilling and somehow fitting, that our show about the challenges, as well as the beauty and dignity of aging, will be the oldest show on Netflix," showrunners and co-creators Marta Kauffman and Howard J. Morris said in a statement on Wednesday (September 4) regarding the renewal.
What's more, once Grace and Frankie's 16-episode series finale airs, the comedy will have logged 94 episodes, making it the most of any Netflix original series.
As expected, Fonda and Tomlin were equally thrilled to hear they'd be returning to their title roles one last time. In a joint press statement, Fonda and Tomlin expressed that they're both "so grateful that our show has been able to deal with issues that have really connected to our grand generation. And their kids, and amazingly, their kids as well! We'll miss these two old gals, Grace and Frankie, as much as many of their fans will, but we'll still be around. We've outlasted so many things — just hope we don't outlast the planet."
The show, which centers on Grace (Fonda) and Frankie (Tomlin) developing an unlikely friendship after their lives are turned upside down when their husbands confess their love for one another, ordered for a sixth season (set to premiere in January 2020) days before Season 5 debuted on January 18.
While you wait, check out what's coming to Netflix this September here.
Photo: Netflix
Chat About 'Grace and Frankie' Makes Netflix History With Season 7 Renewal