Producer Explains Why Courtney Love Was Great To Work With In The Studio
By Andrew Magnotta @AndrewMagnotta
September 5, 2019
Hole's Celebrity Skin album was one of the most expensive and highly-anticipated records of the '90s in no small part because of the band's lightning rod front woman Courtney Love.
Wherever Love went in the '90s, controversy followed, and it didn't hurt/help that at the time she was dating another controversial figure, Smashing Pumpkins front man Billy Corgan, who co-wrote much of Celebrity Skin with Hole.
Producer Michael Beinhorn (who also recorded Soundgarden's seminal Superunknown album) describes the Celebrity Skin period as everything from "tough" to "rewarding" to a "long, incredibly drawn out process."
Beinhorn tells Produce Like A Pro's Warren Huart that he was involved in the project for some 13 months. Despite Love's wild energy, he says the two became dear friends while making the album.
"There was this vitality about her," Beinhorn said. "Like, she was scary. She had a commanding presence. ...She had the world at her feet. She was getting offered movies and stuff like that."
He says that despite the frenzy in Love's orbit at the time, he always appreciated her attitude and the passion she had for her music.
"It was great working with her because she had that kind of energy and she was really, really confident," he continued. "And she had a real vision for this record — they all did. They had a really strong vision for it. That's one of the things that attracted me to the project in the first place."
While Love's temper got her into plenty of trouble with the media (and sometimes law enforcement), her passion ensured recording sessions were productive, and she never phoned in a performance.
"She did take direction really well and she tried really hard because ultimately she wanted to make this as great a piece of work as possible," Beinhorn said.
With all the media attention surrounding Hole while the album was being made, living up to the expectations for Celebrity Skin was a tall task. Ultimately the album broke into Billboard's Top 10, and eventually went Platinum.
"I think that we really were able to get something that, I would say, a lot of people hadn't thought these guys were even capable of," Beinhorn concluded.
Watch the full breakdown of the song "Celebrity Skin" in the player at the top of this page or here.
Photo: Getty Images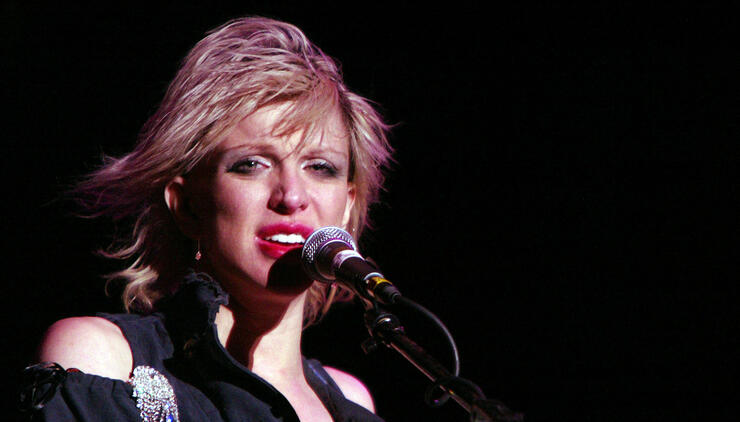 Chat About Producer Explains Why Courtney Love Was Great To Work With In The Studio