'Songland' Creator Audrey Morrissey Talks About Show Origin With Ester Dean
By Hayden Brooks
September 5, 2019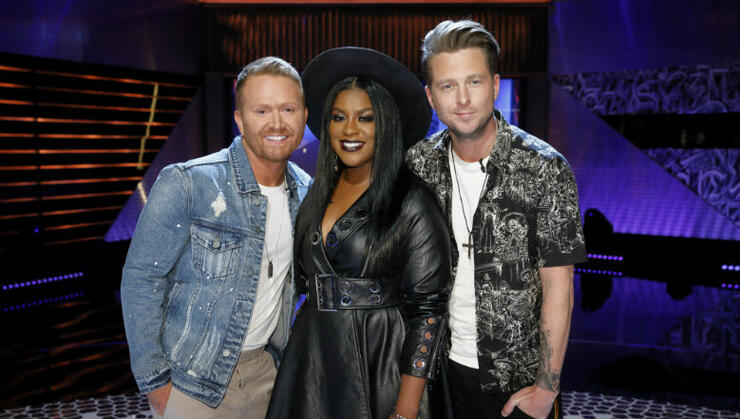 Songland is close to wrapping up its premiere season and the NBC songwriting competition's Wednesday (September 5) episode saw Charlie Puth join the star-studded panel judges of Ryan Tedder, Ester Dean and Shane McAnally. However, for this week's episode of the show's counterpart podcast, creator and showrunner Audrey Morrissey teamed up with Dean for a special behind-the-scenes installment, where the two discussed the show's conceptualization.
"I am the showrunner of The Voice and have been since its start. I had a lot of experience with how music connects to people on TV," Morrissey recalled of her background. "My experience on The Voice is all about finding big, broad songs that people know, they can enjoy, they can connect to. But I realized I was only showing a stage execution of somebody's art. I was never in rooms with these artists as they considered their material, or they were writing their material, or they were thinking about new songs and getting pitched songs."
After meeting with Dave Stewart, the two realized that they wanted to spotlight songwriting, but they needed to make the experience feel different than than that of The Voice. "We had this idea to have a recording artist come on every episode to anchor the show, looking for a song," she explained. "Then we had to of course come up with our panel, who was gonna be on the show. And it was Dave who said, 'Ester Dean! You have to have Ester Dean.'"
As for how Dean adjusted to the pace of creating under the clock for the show's production, it seems like a solid challenge. "It's such an adrenaline. I thank you for it so much," she confessed. "When you're a creator, and you like the rush of the music industry, this is a rush. This is what we pray for. This is our sport. We're competing right there, you know, at that moment when we first hear the song and we lookin' at Ryan like, 'What you got?' And lookin' at Shane like, 'What you got?'"
Songland also brought the panel contestants that they felt like they could actually connect and be vulnerable with. "Songland showed us that we could trust the people that they brought on. So we feel safe enough to bring these songwriters into our, our life as well," she continued later in the podcast.
Scroll on below to take a listen to the accompanying episode of the Songland Podcast and catch a glimpse of Puth's appearance on the latest episode.
If you want to be sure you're listening to the podcasts everyone else is checking out, iHeartRadio has you covered. Every Monday, iHeartRadio releases a chart showing the most popular podcasts of the week. Stay up to date on what's trending by checking out the chart here. There's even a chart just for radio podcasts here, featuring all your favorite iHeartRadio personalities like Bobby Bones, Elvis Duran, Steve Harvey and dozens of others.
Chat About 'Songland' Creator Audrey Morrissey Talks About Show Origin With Ester Dean