Chance The Rapper Performs At Kanye West's Sunday Service In Chicago
By Lauren Crawford
September 8, 2019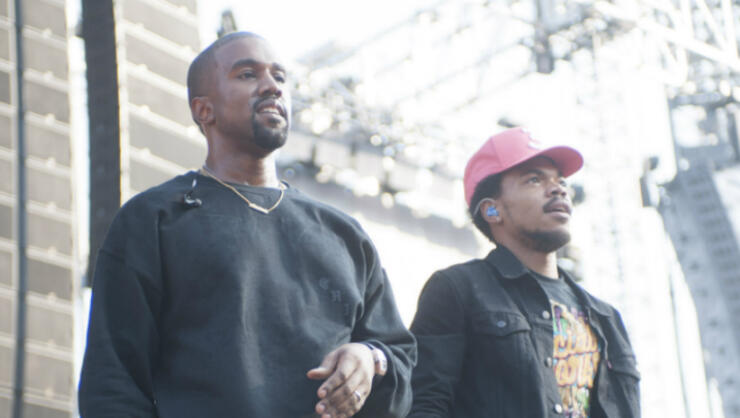 Thousands flocked to Huntington Bank Pavilion in Chicago on Sunday (September 8) to experience Kanye West's Sunday Service.
Mr. West brought his traveling pop-up event to his hometown to communicate messages of positivity and peace to Chicago's youth. Like in weeks past, the ticketed event, which was announced less than 24 hours prior to its start, was free and be open to the public. However, the "first-come, first-serve" tickets sold out within minutes on Saturday (September 7).
Some fans were at the venue as early as midnight waiting for the gates to open at 7 a.m. Despite the rain, Ye's Chicago Sunday Service, which was live-streamed on Ye's website and broadcasted on 107.5 WGCI Chicago, kicked off at 9 a.m. with the 42-year-old rapper's choir performing a medley of gospel hits.
Instead of performing on the venue's stage, Ye and the choir, which was equipped with a full band, performed in the Bank Pavilion's general admissions area in a circle as fans surrounded them. At one point during the service, Ye was overcome by emotion, holding his head down as he held his hands to his face to shield his eyes. After gaining his composure, Ye took the mic to perform "Jesus Walks." Later, he was joined by fellow Chicago native Chance the Rapper, who rapped his verse from their collab, "Ultralight Beam."
Ye's Chicago Sunday Service followed the announcement of his new album called Jesus Is King, which drops on September 27.
You can watch the replay of the Sunday Service HERE.
As fans know, Ye has been taking his Sunday Service on the road lately. The 42-year-old rapper's last Sunday Service was held in Watts, California and attended by Brad Pitt. The week prior, Kanye, along with his traveling Sunday Service choir and Dave Chappelle, were in Dayton, Ohio to put on an event for the community following the mass shooting there.
Ye's Sunday Service shows typically consist of Kanye, his choir, which almost always includes his six-year-old daughter North, performing a blend of hip-hop, gospel, and uplifting tracks to a usually A-list crowd. While Ye's wife Kim Kardashian has called the service Christian-based, it normally does not include a sermon.
Photo: Getty Images
Chat About Chance The Rapper Performs At Kanye West's Sunday Service In Chicago