Shawn Mendes Kisses Camila Cabello Onstage During Steamy 'Señorita' Duet
By Peyton Blakemore
September 8, 2019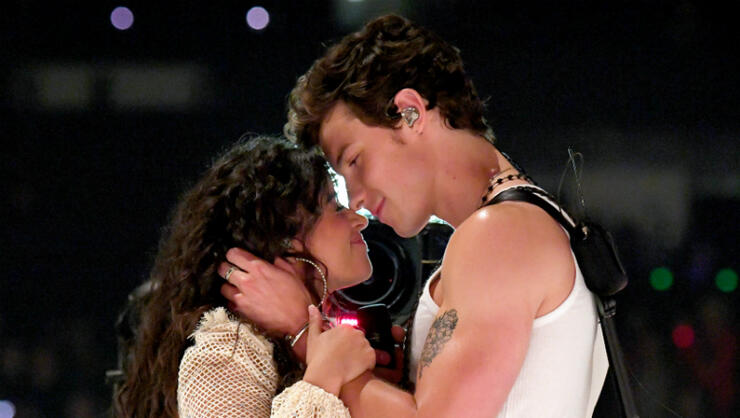 Shawn Mendes and Camila Cabello gave fans quite the show during the Canadian singer's concert in Toronto on Friday (September 6).
The night turned into a full-on lovefest after Camila made a surprise appearance at the concert to perform her and Shawn's hit "Señorita."
Reminiscent of their first performance of the track at the 2019 VMAs last month, the duo kept things pretty steamy as they belted out the sultry single. However, things got even hotter when the lights faded at the end of the song, and Shawn appeared to give Camila a kiss on the cheek, sending the crowd into complete shock as shown in fan-captured video.
As fans know, the onstage kiss marks the first time the usually coy couple —who have known each other for over five years, but went public with their relationship shortly after they released "Señorita" in June — has given fans any sort of onstage PDA.
However, Camila recently opened up about her relationship with Shawn telling ELLE they are falling "for each other like nobody is watching." She went on to explain why they've chosen to keep their coupling private, as she put it, to a "maddening degree."
"Love is the most sacred, precious thing to me," she explained in her ELLE cover story. "I want to always feel like my love is between me and that person, and never belonging to anyone else. As much as I love my fans, and as much as I love people, I like to live my life as normally as possible. In a relationship, it makes me feel uncomfortable to invite everyone in on that."
"I never want to open the door for people to feel like they are involved," the 22-year-old singer continued. "Like I said, I want it to be mine and [his]. That's why I'm so tight-lipped about it: because I want to protect it."
Photo: Getty Images
Chat About Shawn Mendes Kisses Camila Cabello Onstage During Steamy 'Señorita' Duet