Walk The Moon Reflect On 'Shut Up And Dance' Five Years After Its Release
By Katrina Nattress
September 10, 2019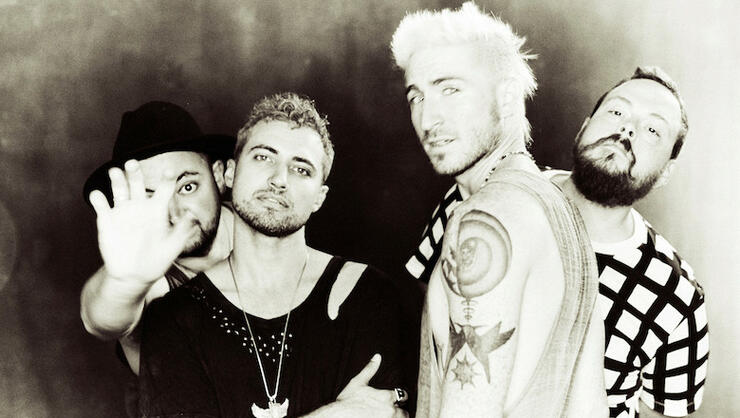 On September 10, 2014 Walk The Moon released what would become their biggest single — "Shut Up and Dance" — and to commemorate the song's birthday frontman Nicholas Petricca reflected on what it means to them half a decade later in a heartfelt Instagram post.
"5 YEARS AGO we unleashed a lil tune called 'Shut Up And Dance,'" the caption begins. "We had a feeling it would resonate with people, but you never really know with this stuff. I had thought for sure 'Shiver Shiver' was gonna be the biggest thing since sliced bread, so maybe my sensors were off. Anyway we put out our new song and set off on a tour of little clubs in the USA. Nothing happened overnight, but we watched as SUAD grew, bit by bit, slowly and steadily. 10 months later in 2015, people were calling it the 'song of the summer'. Then it beat 'Uptown Funk' at the Billboard Awards. Then we're in Japan and it's on the radio in some sidestreet gift shop. Then some locals are singing it to me in Indonesia."
"Fast forward to today, I'm still getting videos every week from somebody's wedding. Somehow, we tapped into something totally universal that reminds people to just have fun," the message continues. "All I ever wanted to do was remind people to *play*... for some reason that mission was deeply important to me. And now I see this dream made manifest, through the vehicle of this goofy, eclectic, passionate group of banditos called WALK THE MOON. The gratitude my brothers and I feel for everyone that's guided us through to this moment is exploding like fireworks today. And at the base of this long list of heroes is YOU. Listeners, music lovers, life livers - thanks for being the other half of this magic. You're the best dance partner ever. Anyway we're back to work, back to play. The mission continues, and new orders are coming in. DON'T DARE LOOK BACK 🤘🏻🤘🏻🤘🏻 -N+WTM"
Check out the post below.
Aside from reminiscing about the past, Walk The Moon has been hard at work on new music and have shared singles "Lose You Again," "Eat Your Heart Out" and "Timebomb" this year. Though they have yet to announce a new album, we're sure that exciting news is looming on the horizon.
Photo: Jeremy Cowart
Chat About Walk The Moon Reflect On 'Shut Up And Dance' Five Years After Its Release