Florida Georgia Line Dishes On Rapper Nelly's Country Roots
By Lauryn Snapp
September 11, 2019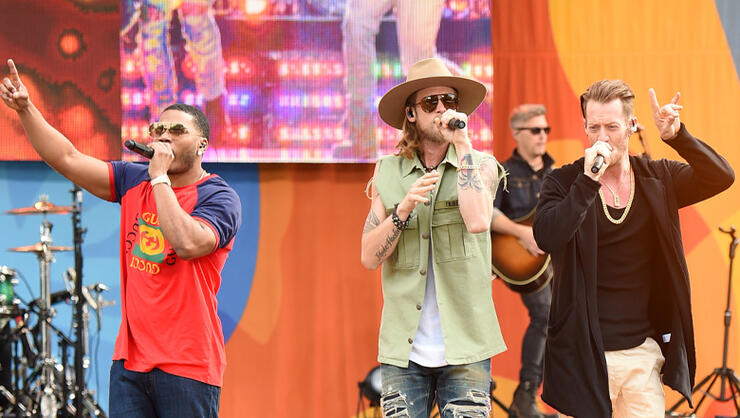 Country superstars Florida Georgia Line hosted their first-ever 'FGL Fest' on September 7th at the Indianapolis Motor Speedway. The duo has been trekking across the U.S.A. on their 'Can't Say I Ain't Country Tour,' and felt it was time to host their own music festival. 
FGL is known for bridging musical genres on and off the stage, so who better to join them onstage than "Country Grammar" rapper Nelly?
But how "Country" is Nelly? Cody Alan got the answer. 
FGL's Tyler Hubbard and Brian Kelley shared that Nelly is incredibly down to earth.
"When you talk to him, man, he says, "I'm a country boy." That's what he says that all of the time," shares Tyler. "We always laugh and say, "man we feel you." 
"Nelly. He is just a family guy. He loves his people, the people around him. He does what he wants, in a way, and he is very independent. He is a visionary and an inspiration to us," Tyler continued. 
With the addition of 'Round Here Records,' there was speculation that FGL would be producing Nelly's next E.P. However, Tyler took the time to set the record straight. "Man that was just a dirty rumor running around town, but we probably would. You never know. We will see what happens." 
While we wait for a FGL produced rap album, Florida Georgia Line has confirmed that a new album is on the way. 'The Acoustic Sessions' will be available on October 18th and features the country duo's biggest hit songs from their studio albums in acoustic form.
"Time flies, man. It's cool to go down memory lane and relive these songs in a whole different way," Brian Kelley tells Cody. "We get to bring it back to the basics of me and Tyler writing songs on the back of his tailgate with two acoustic guitars." 
"It's a blessing to put out and relive. It's a big sing-along," says BK.  
Florida Georgia Line's 'The Acoustic Sessions' Track Listing:
"Cruise"
"Round Here"
"Stay"
"Get Your Shine On"
"This Is How We Roll" (feat. Luke Bryan)
"Sippin' on Fire"
"Sun Daze"
"Dirt"
"Anything Goes"
"Confession"
"Smooth"
"H.O.L.Y."
"May We All" (feat. Tim McGraw)
"God, Your Mama, and Me" (feat. Backstreet Boys)
"Simple"
"Talk You Out of It"
"Meant to Be" (feat. Bebe Rexha)
Start your engines and gear up to watch CMT's Hot 20 Countdown on Sept. 14 and Sept. 15 to see Cody Alan and full coverage of Florida Georgia Line's 'FGL Fest.' It all happens on CMT at 9a/8c.
Photo Credit: Getty Images.
Chat About Florida Georgia Line Dishes On Rapper Nelly's Country Roots