Luke Combs Shares Album Title And New Song '1, 2 Many' With Brooks & Dunn
By Blake Taylor
September 12, 2019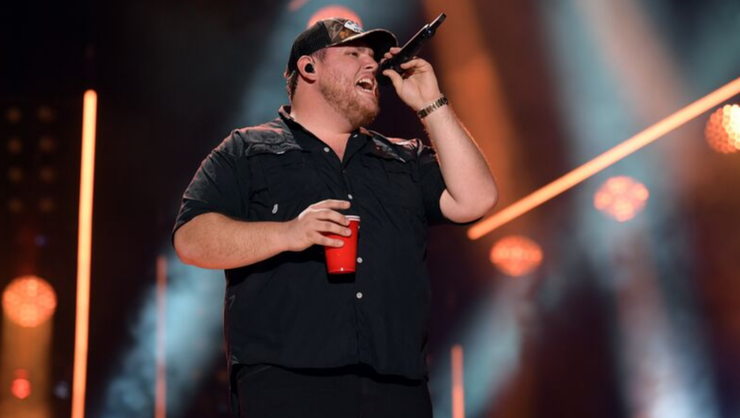 Earlier this week, Luke Combs presented his fans with a social media challenge to get 50k likes on a post. In return, Combs said he'd release a new song off the forthcoming album on Thursday (September 12) called "1, 2 Many." The country singer's fans immediately got to work and in no time exceeded the goal of 50K likes.
As promised, Combs just released his new feel-good drinking song, "1, 2 Many" featuring classic country music duo, Brooks & Dunn. Last week Combs teased the collaboration on Instagram sharing a photo with the iconic duo captioned, "C'mon, that's a country song right there..."
"1, 2 Many" marks Combs' second time working with Brooks & Dunn following the release of "Brand New Man" earlier this year.
In a video shared along with "1, 2 Many," Combs asks the audience, "Does anybody in Green Bay tonight like drinking songs? I like drinking songs," He adds, "I just wanted to write a song that I felt like my '90s country music heroes would be proud of. And I hope they would be proud of this song."
"1, 2 Many" is the first glimpse of the new forthcoming album, which Combs also just announced is titled What You See Is What You Get. Additionally, the "Beer Never Broke My Heart" singer shared the artwork for the album along with some background on the inspiration behind it.
The cover is a painting of a photo of Combs that was done by an artist named Rob Hendin, who is most notably known for his incredible paintings of guitars. Combs opened up about how he envisioned the cover being a photo of himself but with an artistic touch.
"They always told, when we started out, that an album cover is either a piece of art or a picture of yourself," Combs explains. "So, I thought it would be neat to kind of have the album cover be both of those things."
Check out the cover of What You See Is What You Get below and preorder the album here. The new project is set to drop on November 8.
Chat About Luke Combs Shares Album Title And New Song '1, 2 Many' With Brooks & Dunn