OneRepublic's Ryan Tedder Talks Recording A Song They've Never Written
By Hayden Brooks
September 12, 2019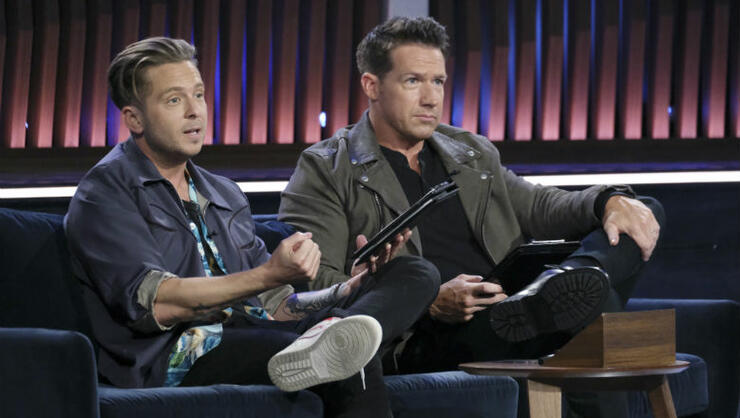 OneRepublic has never recorded a song that they haven't written, but with Ryan Tedder spearheading Songland, it only made sense that the frontman switch it up and hop into the guest artist chair for the big season finale of the NBC competition. On Wednesday (September 11), Tedder listened to a batch of hopeful contestants pitch their songs to him alongside panel judges Ester Dean and Shane McAnally.
"As far as the writing community is concerned, they know that we don't take outside songs," Tedder declared in the beginning of the show's counterpart podcast. "For us this is just a new. We've been together 12 years now. This is like, 'Why not?' We have nothing to protect or hide. We're not being precious at this point. We're writing for a new album. The timing couldn't be better. It just kind of made sense."
Interestingly enough, this week's winner JT Roach learned what he knew about songwriting, courtesy of a OneRepublic record, when he first moved out to Los Angeles. Some of his learnings helped him create "Somebody to Love." "My co-writer had just gone through a breakup. Talking to him about that jogs up all my memories for breakups that I've had," he said of the inspiration for his mid-tempo track. "We talked about how much he was afraid to see her out. I know I've been in that situation where I went out and I saw an ex-girlfriend. You kind of play through that in your head. What's going to happen when you see them? I remember walking past my ex-girlfriend and she just walked straight past me and acted like she didn't even see me and like how much that sucked, you know? It's just a really heavy moment."
When it came down to appearing in front of Tedder, the contestant was a bit anxious, admitting "I felt like he was going to be even harder and even harsher with his criticisms. I remember being very nervous for sure. I kept trying to use the word excited so that I could do what I had to do."
As for changes, Tedder had some input and wanted the angle of the song to be something that he could relate to personally. "He went through something recently with his family where one person moved on from another person and he could really relate to the song in that way," the contestant recalled. "We really tried to craft it and create it into a story for him that when he sings it live, he can really feel it and relate to it."
If you want to be sure you're listening to the podcasts everyone else is checking out, iHeartRadio has you covered. Every Monday, iHeartRadio releases a chart showing the most popular podcasts of the week. Stay up to date on what's trending by checking out the chart here. There's even a chart just for radio podcasts here, featuring all your favorite iHeartRadio personalities like Bobby Bones, Elvis Duran, Steve Harvey and dozens of others.
Chat About OneRepublic's Ryan Tedder Talks Recording A Song They've Never Written