Felicity Huffman Receives Prison Sentence For College Admissions Scam
By Emily Lee
September 13, 2019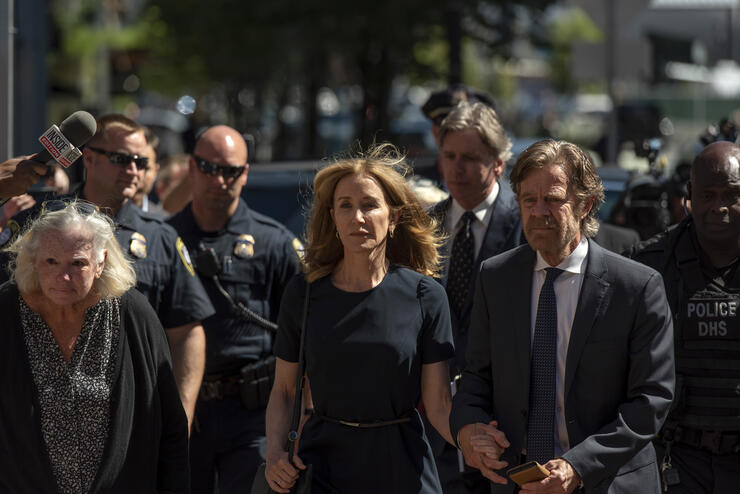 Felicity Huffman arrived at federal court for her sentencing hearing in Boston on Friday (September 13). The 56-year-old actress pled guilty to one charge of conspiracy to commit mail fraud and honest services mail fraud back in May after paying $15K to have her daughter's SAT scores altered in the widespread college admissions scandal known as "Operation Varsity Blues." Huffman is the first of the parents involved in the scam to have her day in court and, ultimately, received a sentence of 14 days in jail. In addition to prison time, Huffman must also pay a $30K fine plus 250 hours of community service.
Huffman arrived at court in a solemn black dress. Her husband, fellow actor William H. Macy, arrived with his wife. He sat in the front row during the legal proceedings. Macy submitted a letter to the court in support of his wife, as well. The letter claims Huffman's relationship with their two daughters "exploded" after she was ousted as part of the bribery scheme. He also wrote "every good thing in my life is because fo Felicity Huffman." In addition to Macy's moral support, Huffman reportedly had 13 loved ones, including siblings and longtime friends, travel to Boston to be with her during the sentencing.
During the legal proceedings, Huffman made one last attempt to avoid jail time. Her defense team argued the actress should receive a year of probation, 250 hours of community service and a $20k fine. While she's previously stated she paid to have her daughter's scores altered so she could have a "fair shot" at the college admissions process, on Friday, Huffman claimed she committed the crime because she was "struggling" to her help daughter, according to Buzzfeed News reporter Julia Reinstein. Assistant US Attorney Eric Rosen hit back, however, stating "with all due respect to the defendant, welcome to parenthood. There's no instruction manual. Parenthood is exhausting and stressful, but that's what every parent goes through."
Rosen recommended Huffman be sentenced to one month in prison. "Imprisonment is needed because this was a considered, deliberate, and purposeful criminal act," Rosen argued. Prosecutors also referenced the case of the Akron, Ohio mother who received jail time for using a fake address in order to get her daughter sent to a school in a better district. "If we respect the rule of law, we should not treat defendants differently because of wealth or status," Rosen told the court.
Before her sentencing, Huffman addressed the court personally. "Let me first say, I am sorry to you," the actress said. According WCVB journalist Adam Bagni, Huffman directed her apologies to her husband, parents, daughters, and the colleges she attempted to dupe. "I have betrayed them all," Huffman said. She then recalled the day she took her daughter to the SAT testing center where her scores would be altered on her behalf. "I thought to myself, turn around, and to my eternal shame I didn't," Huffman said, reportedly through tears. "I have done more damage than I could have ever imagined. I could have said no. I am prepared to accept whatever sentence you give me and I will deserve whatever punishment you give me," Huffman concluded.
After a heated back and forth between the prosecution and the defense, however, Judge Indira Talwani ultimately sentenced Huffman to two week behind bars. Before revealing her sentence, the judge said "Ms. Huffman, compared to the other defendants, paid the smallest, or one of the two smallest, bribes. She was not a repeat player. She didn't involve her child. But, we also know she knew what she was doing was wrong."
Photo: Getty