There's A 'Game Of Thrones' Targaryen Prequel Series In Development At HBO
By Emily Lee
September 13, 2019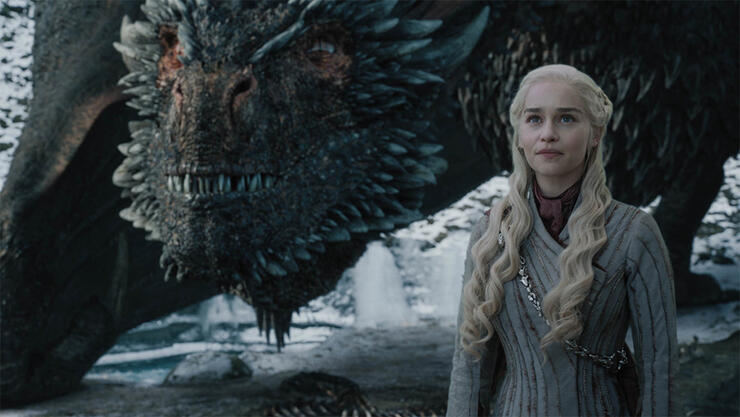 HBO is working on another Game of Thrones prequel series. According to Variety, HBO is "nearing a pilot commitment" for a series based on the Game of Thrones companion book Fire & Blood. The companion book focuses on the history of House Targaryen. The currently untitled series would be set 300 years before the events of original, record breaking show.
Now, this prequel series isn't to be confused with the other prequel series currently in development over at HBO. The network is also working on a pilot for a prequel series set thousands years before the original series. This series, which is a little further along in production and has cast Naomi Watts in the lead role, will explore the Age of Heroes in Westeros. George R.R. Martin reportedly refers to the series as "The Long Night," hinting the show would be set during a winter that lasted a generation. The origins of the White Walks and early legends of the Stark family will also be explored.
The House Targaryen prequel series is expected to depict the beginning of the end of the noble, dragon-riding family. According to Entertainment Weekly, the series will lead up to the family's infamous civil war, known in Westeros history as "the dance of the dragons." Fans of the original show will recall the history lesson Shireen Baratheon gave the audience about this era during a season five episode:
"It's the story of the fight between Rhaenyra Targaryen and her half-brother Aegon for control over the Seven Kingdoms. Both of them thought they belonged on the Iron Throne. When people started declaring for one of them or the other, their fight divided the kingdoms in two. Brothers fought brothers, dragons fought dragons. By the time it was over, thousands were dead. And it was a disaster for the Targaryens as well. They never truly recovered."
Martin is attached as executive producer for the House Targaryen show. Ryan Condal, the co-creator and executive producer of Colony, is also attached to the project. HBO didn't have an official comment about the future of the series.
Photo: HBO
Chat About There's A 'Game Of Thrones' Targaryen Prequel Series In Development At HBO