Perspective On Marty From The Guy Who's Spent 34 Years In The Booth
By Mo Egger
September 14, 2019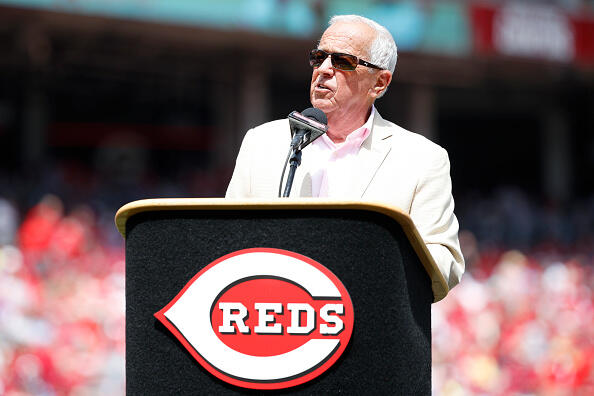 This was originally published in The Athletic.
Of all the thousands of Cincinnati Reds games called by Marty Brennaman, there is likely no one who's listened to more of them than the guy who's spent nearly three and a half decades getting them on the air. Dave "Yiddy" Armbruster has been with 700WLW radio since 1982, although putting it that way does a great disservice to Yid's radio career, which has included nearly every role on- and off-air imaginable.
Yid has been the producer and engineer of the Reds Radio Network since 1986, which means he's tasked with handling the technical parts of the broadcasts and is ready to handle the, um, feedback, from Brennaman when things occasionally go wrong. It also means there isn't a person besides the late Joe Nuxhall who's spent more time in a broadcast booth with Brennaman.
In the coming days, there will be no shortage of shared perspectives on Marty's career, impact, legacy and personality. But perhaps no one's Marty perspective is as unique, or as intimate, as that of the man who's spent nearly three and a half decades making sure his microphone is turned on.
Yid sat down with me to talk about what it's been like to work closely with — and get chewed out by — one of the greatest play-by-play announcers in sports.
I want to start with this season, then maybe work backward a little bit. I've listened a little differently, not only savoring each time I've listened during Marty's final season, but also curious to see if he sounds at all different, if he sounds maybe a little reflective or even melancholy, but to me, he sounds the same as he has for years. You're there every day, so what's Marty's final season been like in the booth?
For the most part, Marty's not very reflective, but I think he will be coming down the homestretch. It's been good, though. Busy. Marty's told me, "I think I'm going to die before I retire," because he's been running everywhere. The booth is like Grand Central Station anyway; this year has been beyond the usual. There's so many people that want to stop in and say hello, lots of people he's known for years. He gets that that's part of the gig right now, and we were prepared for more visitors than normal, but for the most part, it's been business as usual. He still treats every game, every broadcast, the same as he has since I've been there.
You began working for 700WLW in 1982. So a few years later, when you're in your mid-2os, someone tells you you're going to engineer the games, in the booth with Marty and Joe. By then, Marty has been there for a while and he's certainly well-established and popular, but I'm guessing at that point, he's still not the bigger-than-life figure that he would become. But I would imagine that working with him was still very intimidating.
It was panic central, especially when I filled in for three games the season before, then becoming the full-time guy the next year, starting on Opening Day, which you obviously cannot screw up.
When you meet Marty for the first time, he's a really, really good guy, but he can be intimidating. He'll say things to you as soon as the first time he's met you that, deep down inside he's joking, but you don't know that he's joking. I can't tell you exactly what he said to me when I started, but all I know is I was scared to death, and he makes it known from the get-go that he'll be on you if you screw something up, and it's still that way now.
But that said, he's the best person to work for, ever. He will go off on you and let you have it, but 15 minutes later he's forgotten about whatever upset him that you screwed up and he's ready to move on.
Is there a specific incident — recent or way back when — where he just carved you up?
To read more, go to The Athletic.
(Photo: Getty Images)
Chat About Perspective On Marty From The Guy Who's Spent 34 Years In The Booth