Meghan Trainor To Perform 'Friends' Theme Song For Show's 25th Anniversary
By Paris Close
September 17, 2019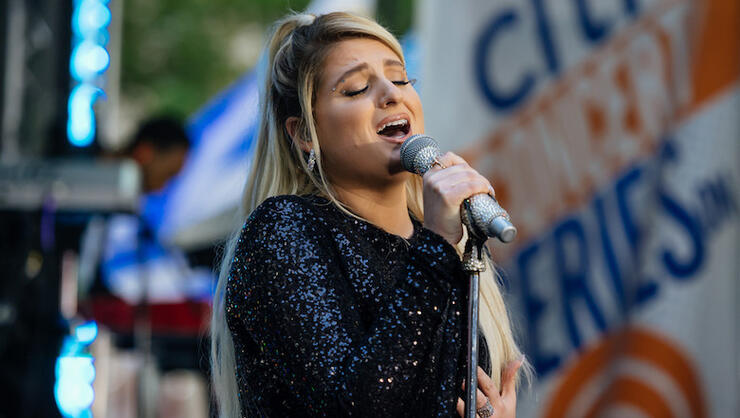 To celebrate the upcoming 25th anniversary of Friends, Meghan Trainor is doing the honors of singing the show's theme song, "I'll Be There For You," on "Friends Day," Sunday, September 22.
The music-to-light show — which includes a blue, yellow, and red light presentation as a nod to the colors of the sitcom's logo — will feature the Grammy award-winning artist debuting her cover of the beloved tune, originally performed by The Rembrandts, at the Empire State Building at 8:30 p.m. — the exact time Friends premiered on NBC on September 22, 1994. The song will be synced live on iHeartMedia's Z100 at the same time, then available to download on iTunes and other digital retailers beginning at midnight on September 23.
According to Rolling Stone, Trainor, who describes herself as a Friends fanatic, was apparently approached by Warner Brothers for the anniversary gig. "I've seen every episode multiple times now," the "Dear Future Husband" songbird told the publication. "I can't believe they even thought of me to sing this cover. It was a dream come true."
Since its debut in 1994, "I'll Be There for You" has become a mainstay in music pop culture and a household favorite with Friends fans everywhere, namely for its feel-good energy and handclaps throughout the track — qualities the songstress hopes to recreate in her own rendition.
"I actually cut the vocals in my backyard in my studio, with my little brother, my older brother, my husband, and my best friend," Trainor said. "And we were just all laughing and in disbelief. Like, 'How is this really happening?' It was a big party, the best night."