Dennis Rodman Cries While Recounting Experience WIth Racism In College
By Bill Galluccio
September 19, 2019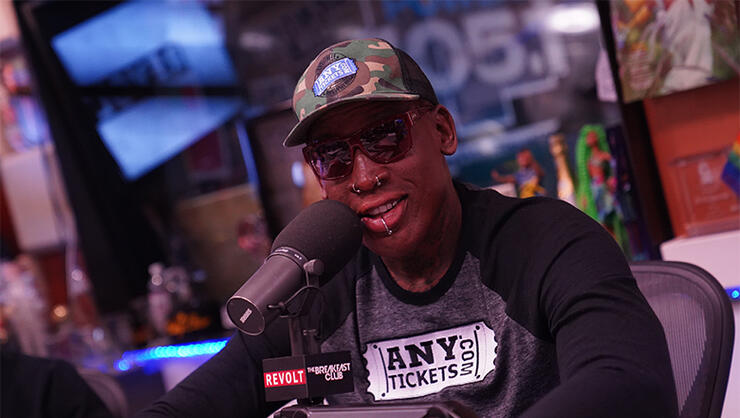 NBA Hall of Famer Dennis Rodman joined the Breakfast Club, and things got personal during a wide-ranging interview. Rodman was talking about how he was never bothered by racism in college, even when white students would call him the N-word. He shared a story about an incident that happened while he was dating a white girl at Southeastern Oklahoma State University.
Rodman was living with a white family at the time and was with one of their kids when he walked into the dorms. He explained how two white kids grabbed him and put him down, and the kid he was with on the ground. At that point, Rodman stopped talking and become extremely emotional, remembering what happened.
He struggled to get the words out of his mouth, and his hands were visibly shaking as he tried to recall the events of that day.
After he collected himself, Rodman continued his harrowing story. He said that the two men took him and the young boy to a park where they met the girl he was dating. They beat him up against a tree and then put a shotgun in his face.
They told Rodman if he ever touched a white girl again, they would blow his brains out, and then told the kid Rodman was with that if they ever caught him hanging out with a black person, they would shoot him too.
The two men, and the white woman left, and the young boy hugged Rodman and asked if he was ok after the terrifying incident.
You can listen to the entire interview on YouTube.