Steve Aoki on Emotional Backstreet Boys Collab & Vulnerable Autobiography
By Nicole Mastrogiannis
September 19, 2019
Steve Aoki is the King of Collaborations, but his newest collab, "Let It Be Me" featuring Backstreet Boys, is perhaps his most profound yet — and it comes on the heels of the release of his very vulnerable new autobiography Blue: The Color of Noise.
"Let It Be Me" is Aoki's latest single, which is set to be on his forthcoming new album Neon Future IV, and packs a powerful message. The producer/DJ exclusively explains to iHeartRadio of the track, "It is an emotional song and we made the video to really showcase what the song's all about; that no matter what the hardships that people have to go through to be with someone they love. Love prevails, love wins. Life can throw you into a rigamarole that you can't get out of, or you feel like you can't get out of, but you can if you keep working at it, you'll be able to find your way. And, I'm really proud of the video. I love this song. It's an honor to work with the Backstreet Boys, and it took us quite some time to get to this place. These guys are just ... like in the studio working with them, they're down to earth, they're hungry, they want to make sure it's the best version, and they're professional. They're awesome to work with, absolutely incredible to work with."
Aoki and Backstreet Boys' new song came about after the band's Nick Carter gave a surprise performance during one of Steve's shows in Las Vegas, and the rest is history.
"Me and Nick were already chatting and talking about getting together and working on music, but we didn't have the opportunity to really feel the energy from each other," Aoki explains. "And, he was out [in Las Vegas]. I don't know if I dragged him into the club or whatnot, but I just remember I was playing a show at Omni in Las Vegas, he was behind me and I was already playing a Backstreet Boys song in my set, so I'm like this is amazing timing. And I told Nick, 'I'm gonna play 'Backstreet's Back' tonight, in like five minutes.' And he's like, 'What?' And then he just grabbed the mic and he got on stage and he just did his thing. And the crowd was going crazy. So I just felt like the energy was combustible. It was all my fans, these EDM fans; people that come to Vegas are all kinds of fans, they're not just EDM fans. But, they love, obviously, electronic music and then they love Backstreet Boys. And the whole place was singing 'Backstreet's Back.' So we got off stage and we're buzzing, and then, finally, I got back on the phone with him and it's like we need to get into the studio. We got to chop up and get some music going. Eventually, they came to my house, and I have an incredibly fun house called Aoki's Play House in Las Vegas. And, we're jumping in the foam pit. I mean, I have all kinds of, like, teenage, fantasy, dream scenario of a house. So we're doing all that fun stuff. Then, finally, we get down to the studio, and then that's when we're all kind of vibing on different ideas. And the inception of what 'Let It Be Me' was, the seed was planted there. And then months and months later, we went back and forth. They came back and recorded the vocals in my studio. They record some of their vocals other places. You know, they are five guys. It's like a lot of vocals they have to cut."
He adds, "We nurtured this song without a rush, which was nice. Like, we're gonna put this song out when it's time; there's no rush for it. And, I'm glad that we took our time with the song, because it feels so comfortable and it feels so organic and natural. And, it really is this world of the Backstreet Boys world and the Steve Aoki world, dance and electronic and pop coming together in a really beautiful way. And the lyrics to the song are just, they are so touching and so emotional. I'm just so proud of the song."
The release date for Neon Future IV has not yet been revealed, but fans can expect collaborations with a variety of different artists, including "Let It Be Me." Steve explains, "Neon Future IV is packed with collabs. Every song is gonna be [a] very interesting, diverse collab list of artists from all different kinds of worlds — which is how I love to do Neon Future. It's all about connecting with artists from all different walks of life."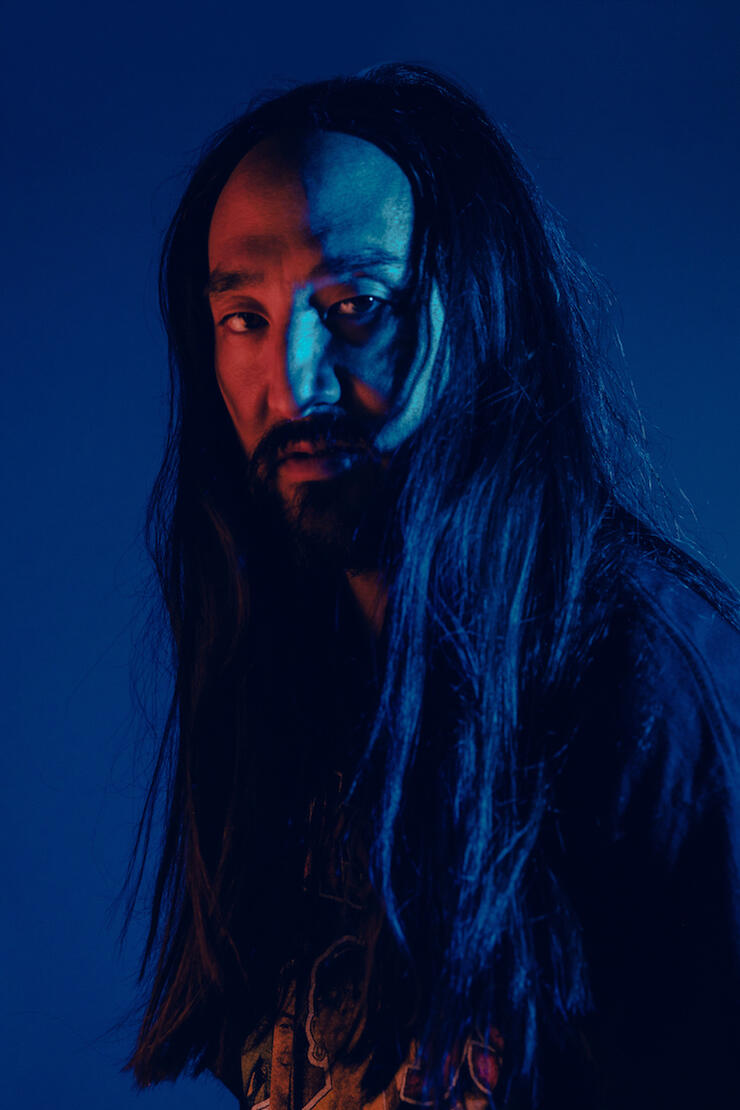 While Aoki prepares his new album, continues to tour and release new songs, fans can read about just how he got to where he is in his new autobiography Blue: The Color of Noise. Blue has been six years in the making, and the DJ explains of his book:
"When people ask me the question 'Why now?' ... Why not? Sometimes you think of a memoir, okay that's at the end of your career, like when I'm old. But for me, this is telling my beginnings. It doesn't really talk about what's happening in the last few years. I really kind of dove in almost as if I'm talking to a therapist and trying to understand my process. Like, not just how I made it from point A to point B to point C to point D and so forth, but going into the vulnerabilities, going into the times where it's difficult to talk about. It's difficult to really go into the periods of my life that really shaped who I am. And someone like me ... You know, I do 250 shows a year, every single year for over 10 years. It's different than just an artist that tours around an album. My album is a song. So, I hit the road and I just don't look back. So when you're like that, it's easy to kind of glide past trauma or glide past situations in your life that you don't want to deal with. And, with this book, it is self-reflective enough where I had to stop the train, and I had to really analyze and process and go through some very difficult moments that I had to confront. So a lot of this book is just for myself."
He adds, "I think there are lots of takeaways in this book that, that people will be able to find in their own path. Because a lot of it's just like, you know, when I was going through a hard time and I had to get through, and this is my own story of how I, instead of going in the linear route, I just kind of went around and found another way in. Like, let's say the house is your goal ... I crashed through the side window — I didn't knock on the front door. That's just my approach to life. So, I think people will find something valuable in the book."
Being that Blue is an autobiography, the stories Aoki includes make this the most personal and vulnerable he's ever been, publicly. He explains, "There's a lot of stuff that's very touchy. For one, I don't really put my personal life out in the public so much. I just gave it all out there through this book."
Vulnerability aside, Steve describes writing this book as therapeutic, especially after having to confront different difficult times from throughout his life. He tells us, "It's hard to write your life in 200 pages. It's hard to go through and pick the stories that are gonna follow this narrative. Because it's like, there's so much you can include. The outtakes of the book are like ... they could fill up five more books, honestly. It is very hard to be able to translate it all and mold it all into 200 pages and have it follow this narrative that I'm guiding and navigating people through Blue, this idea of Blue, where it's like all the different emotions and shades and feelings that make up who I am."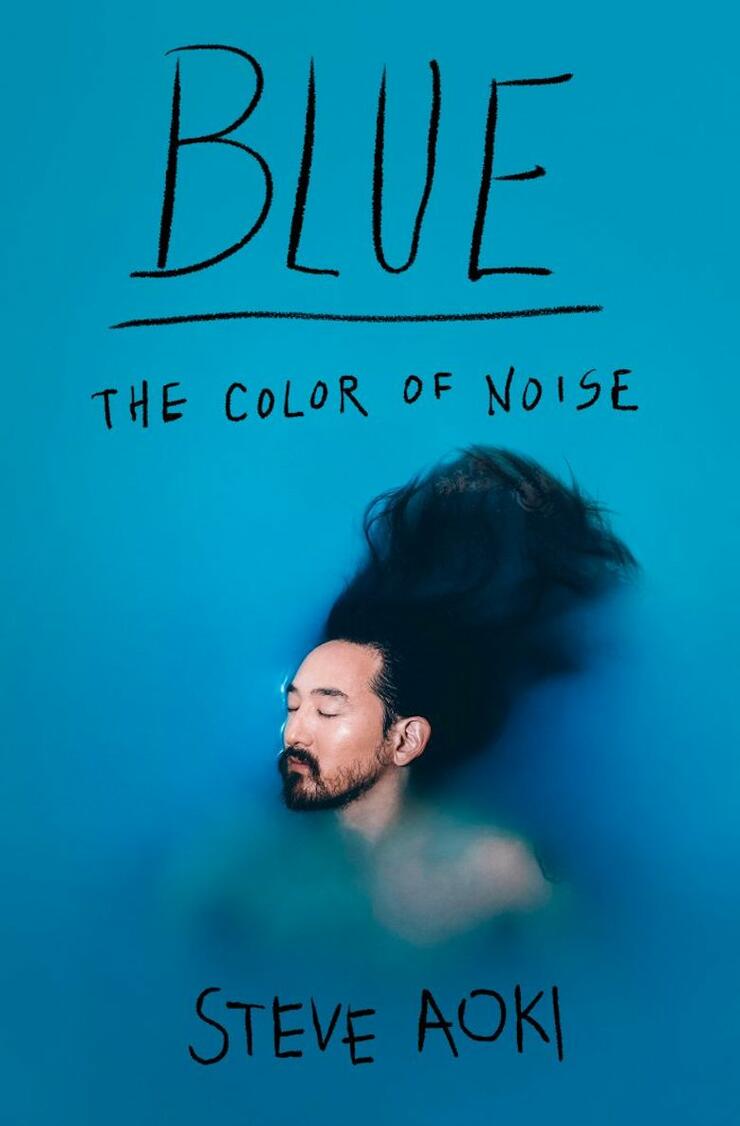 If there is one things fan can learn from Blue, it's that sometimes it is necessary to accept failure, a lesson that he has personally learned. Aoki explains, "I think one of the first things in my head when I think about what the main takeaway is in the book [is] I talk about failure a lot. I talk about that you have to have thick skin. And you have to be able to accept that, you know, for me 70% of what I've attempted, or say out of 100%, 70% has been failure — there's only the 30% that's actually been success, is what people see. But they don't really see everything else that came into it. Before I made my first breakthrough remix, 'Pursuit of Happiness' in 2009, I made like 50 remixes. And some of them were these huge mega remixes that you would imagine would be super popular. Like, I think even around that time I'd remix a song by Drake, and he had Eminem, Lil Wayne, Kanye West on the track. But no one heard it because it wasn't that good a remix, you know? It's just the nature of how the creative process is. Sometimes what you put out there sucks, and you just have to accept that. I kind of go through that whole process of managing your expectations and accepting failure, but also using failure as a reference point to reprocess and kind of reanalyze your approach, and go back at it again. And also sometimes you're gonna have to switch lanes."
Steve Aoki is set to take the stage at this weekend's iHeartRadio Music Festival alongside a lineup of superstar artists. Tune in and watch an exclusive live stream of the show via The CW App and CWTV.com each night on September 20th and 21st at 10pm ET/7pm PT. Fans can also listen live on the official iHeartRadio Music Festival station on the iHeartRadio app.