Zac Brown Band Talk Working with Genre-Spanning 'The Owl' Collaborators
By Taylor Fields
September 20, 2019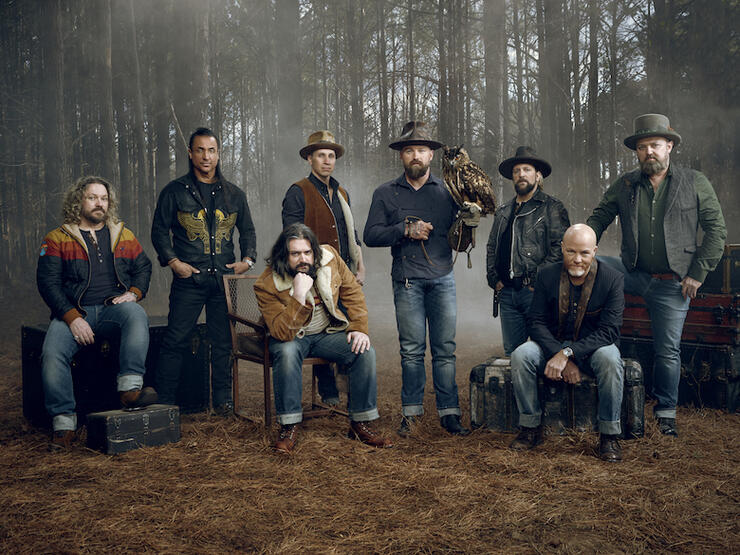 Zac Brown Band is breaking barriers with their new album, The Owl, and the 11-song set has officially arrived.
The Owl follows Zac Brown Band's 2017 album Welcome Home with the band introducing the new music with lead single "Someone I Used To Know," which was co-written by Shawn Mendes, at the end of 2018. The new album showcases several other collaborations including "Finished What We Started" featuring Brandi Carlile, and producers including Jason "Poo Bear" Boyd, Ryan Tedder, Skrillex, Andrew Watt, Max Martin and Benny Blanco.
The band tells iHeartRadio of getting to work with the group of genre-spanning songwriters and producers, "It was awesome. Made some new friends, learned a lot about process, learned about how other people create things, tried to absorb their tricks and see what they're doing. And, that part about it is like going to school. You know, it's education and that part's helped me grow. I'm super excited to have worked with everybody and learned I want to do a little more of this, a little less of that, and work with some people a little more. And it's been really enriching for me to do this process and work with people that are legends. It's super fun."
As for what the album's title, The Owl, really means, the band explains, "The owl is one of those spiritual beings on the earth. To me, they're fascinating, they symbolize wisdom. They symbolize foreshadowing. Just a symbol of power and wisdom and mystery. I've always been really drawn to them."
Zac Brown Band kicked off The Owl with the Shawn Mendes co-penned song "Someone I Used To Know" in November 2018 — the group and Mendes appeared on an episode of CMT Crossroads last year.
"'Someone I Used to Know' is about your growth into who you're becoming, and looking back at your old self and reflecting on who you used to be; it's about that journey," Zac Brown Band explains. "It sounds familiar as if you're speaking about someone else, but when you become someone new, you actually are talking about someone else. And that's someone that you used to be."
On their Brandi Carlile collab,"Finished What We Started," the band recalled of working with the Grammy-winning singer/songwriter, "It was a privilege just to have Brandi Carlile sing on it. Love her voice, love her. And, you know, it's pretty self-explanatory."
Meanwhile, on "Need This," the band worked with OneRepublic's Ryan Tedder and producer Poo Bear (who has co-written many of Justin Bieber's hit songs). The guys describe the track as "tropical" and add, "Sometimes you gotta get away, and go down, and blow off some steam, and let go."
Zac Brown is set to take the stage this weekend at the 2019 iHeartRadio Music Festival alongside a lineup of superstar artists. Tune in and watch an exclusive live stream of the show via The CW App and CWTV.com each night on September 20th and 21st at 10pm ET/7pm PT. Fans can also listen live on the official iHeartRadio Music Festival station on the iHeartRadio app.