'The Bachelorette' Star Mike Johnson Spills On Demi Lovato Romance
By Hayden Brooks
September 19, 2019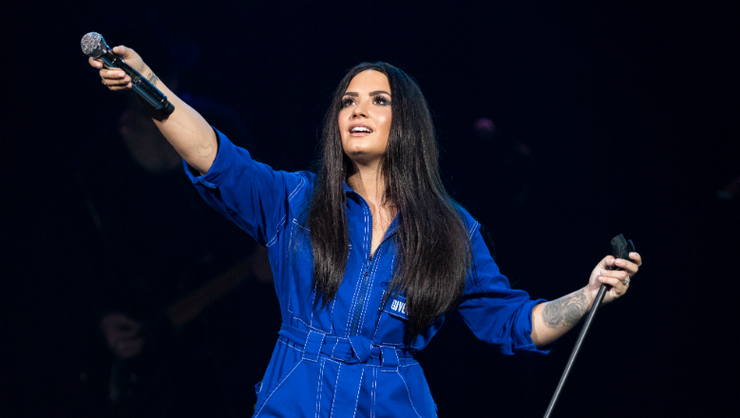 Demi Lovato and Mike Johnson were previously spotted having dinner in Los Angeles after months of online flirting, but it seems as if The Bachelor star is indeed interested in more than just friendship when it comes to the pop star.
Speaking with Entertainment Tonight on Wednesday (September 18), Johnson, 31, confirmed that he did go out on a date with Lovato, 27, but kept the details of the outing scarce."Demi Lovato and I went on a date. The woman is quite astounding and amazing. And that's all I'll say on that," the reality TV star told the outlet of the budding romance.
As per PEOPLE, Johnson's appearance on the Bachelor Happy Hour podcast with Rachel Lindsay and Ali Fedotowsky-Manno heard him confess that the pair had met more than once. "I think she's amazing. She's incredibly humble," he said. "When Demi and I are together, it's laughter and we talk about real sh*t. Like, she's a down-to-earth woman and I respect it so much. And she's just a really humble, really cool, really fun, down-to-earth person."
As for what the two were doing together, Johnson strategically said, "My status of the relationship with Demi and I are that we are two people exploring each other."
Prior to meeting in real life, Lovato and Johnson had been flirting via social media captions and replies. After Lovato admitted that she accepted his rose when he got eliminated during the 15th season, she took to Twitter to confess that her mom already loved him when he tweeted something addressing the pop star as his future wife. "I'm flirting with her too. Tell her, 'What's up, baby?' I would definitely take her out for an initial date, yeah," he previously said. "100 percent not scared about it at all. I would be like, 'Oh my God! Girl, come here.'"