Tim McGraw Honors The Cars Frontman Ric Ocasek At iHeartRadio Music Fest
By Hayden Brooks
September 21, 2019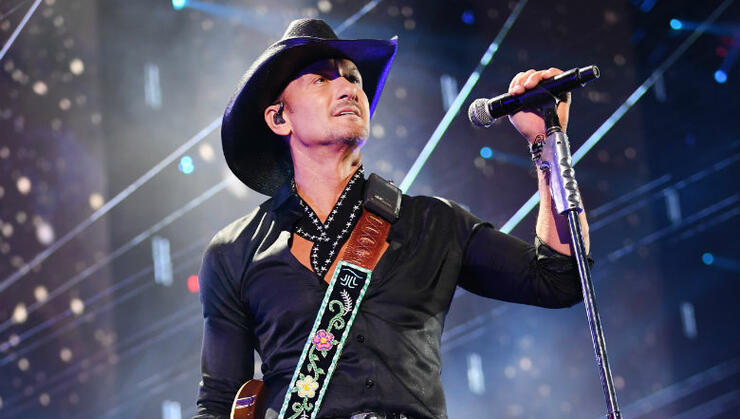 Tim McGraw took his love for The Cars to the 2019 iHeartRadio Music Festival on Friday (September 20) when he performed his cover of their 1984 hit "Drive" as a tribute to the band's late frontman Ric Ocasek, who just passed away on Sunday, as well as the band's original lead singer Benjamin Orr.
"All of us that you see on stage tonight, all of us artists and songwriters, we're all inspired by things that move us," the country titan told the crowd at Las Vegas' T-Mobile Arena. "We're a product of our imagination and a product of the things that we grew up hearing and the things that we grew up loving and the things that we grew up making love to and making life to and we're losing a lot of good ones."
McGraw went on to recall his college days, where he would sit with his guitar on the front steps of his fraternity house and realize that he had a way with the ladies — as long as he had a guitar in his hands. "This next song, when I say we're a product of what we listen to, we all learn from each other and we're all inspired by each other. This is one of the songs that inspired me and I hope you like our version of it," he continued. Immediately after, the titan took on the classic and ended the number on a somber note as a backdrop featuring images of Ocasek and Orr appeared on the jumbo screen.
Elsewhere during the 20-minute set, which saw a devoted attendee FaceTime the performance, McGraw offered up some signature hits like "Truck Yeah," "All I Want Is A Life," "One of Those Nights" and "Real Good Man," as well as a new collaboration with Shy Carter called "Way Down." The song hears the 52-year-old and the 35-year-old sing about some of their favorite things from the states down south.
If you missed any part of the weekend, we've got you covered. Fans can re-live all of the epic performances and collaborations by tuning in to a televised special on The CW Network at 8 p.m. ET/PT on October 2nd and 3rd. And leading up to the official television special, The CW will also air an hour-long Best Of Special on Sunday, September 29th at 8 p.m. ET/PT taking a look back on all of the most iconic moments from the festival in its nine year history.