Chance The Rapper Takes The Crowd To Church At iHeartRadio Music Festival
By Peyton Blakemore
September 22, 2019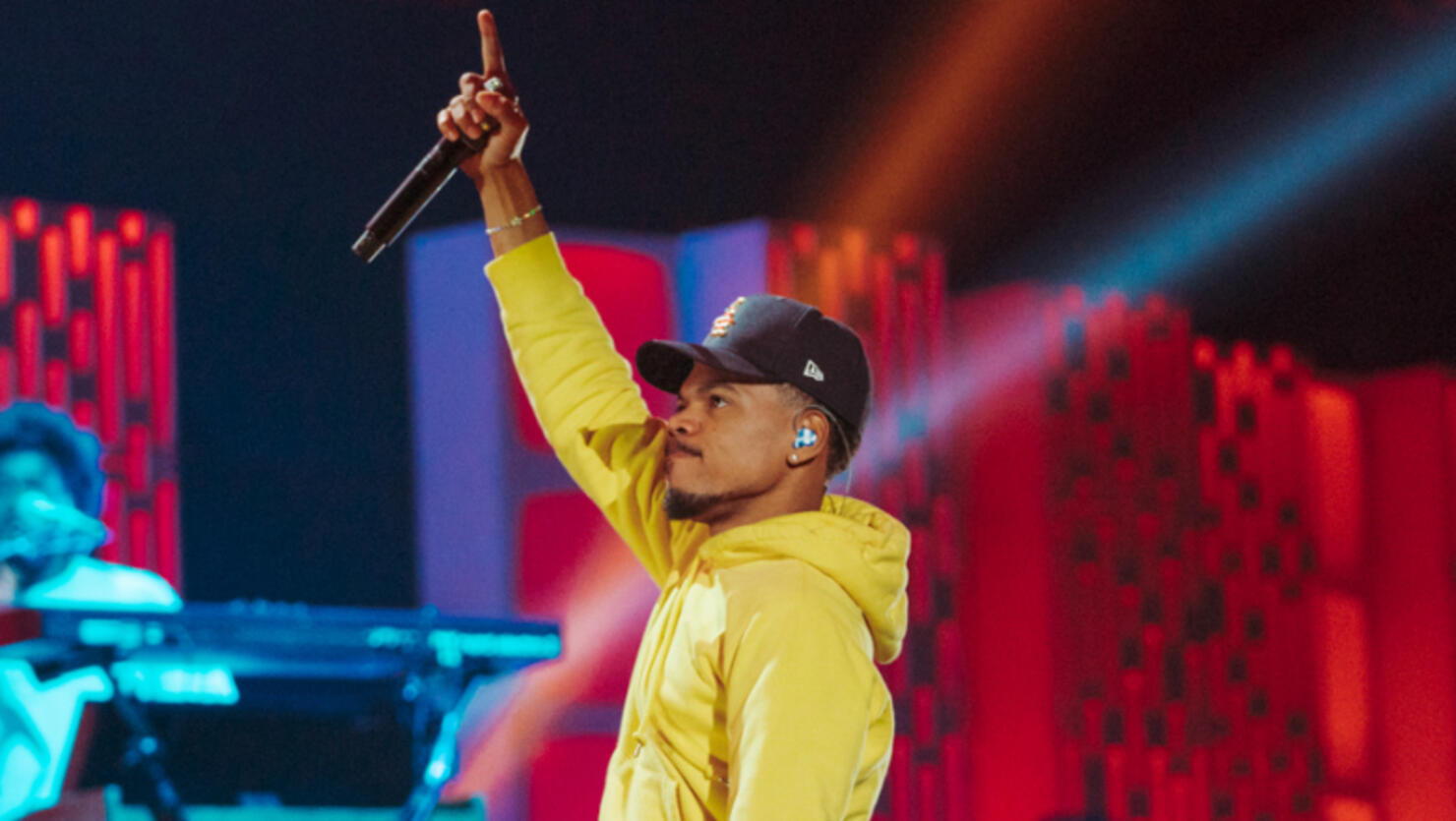 Chance the Rapper lit up the 2019 iHeartRadio Music Festival stage in Las Vegas Saturday (September 21).
The 26-year-old rapper had the crowd mesmerized as he performed a number of his hits, including "No Problem," "Blessings 1," and one of his newest tracks, "Do You Remember," which is off his recently released debut album The Big Day.
After getting the audience to sing the words to nearly all of his songs — in many ways taking them to church with his uplifting lyrics — Chance performed his latest single "Hot Shower." For the high-energy track, the "Slide Around" rapper pulled out all the stops, bringing out break dancers and acrobats to bring the track to life with flips and wild dance moves.
Chance ended his set with a somewhat next level moment, getting the entire crowd to sing "are you ready for your miracle?" — the lyrics to "Blessings 2" — while also getting them to direct their attention up above.
Earlier this month, following the arrival of his second child, Chance announced that he will be postponing his upcoming tour to spend time with his family. "I thought it over for the past week and I've decided to push back my tour," he wrote on Instagram. "This year has been one of the greatest of my life; Marriage, new baby, first album etc. But with it being so eventful it has also been very strenuous having to divide my time and energy between family and work."
"When Kensli was born, I went on tour 2 weeks later and missed some of the most important milestones in her life, but more importantly I was absent when her mother needed me the most. At this point as a husband and father of two I realize that I can't make that mistake again," Chance explained. "I need to be as helpful and available as possible to my wife in these early months of raising Kensli and Marli. I apologize because I know how many people were counting on seeing me soon, but I hope you'll understand and forgive me in time. Tour kicks off Jan. 15th and you can still get tix or your refund if you are unavailable at chanceraps.com & a few of the shows are still being rescheduled as well so stay tuned. I love you guys AND LITERALLY CANT WAIT FOR U TO WITNESS THIS SHOW 🙏🏾🙏🏾."
If you missed any part of the weekend, we've got you covered. Fans can re-live all of the epic performances and collaborations by tuning in to a televised special on The CW Network at 8pm ET/PT. And leading up to the official television special, The CW will also air an hour-long Best Of Special on Sunday, September 29th at 8 p.m. ET/PT taking a look back on all of the most iconic moments from the festival in its nine year history.
Photo: Getty Images