Marshmello & Kane Brown Brought Bromance To 2019 iHeartRadio Music Festival
By Hayden Brooks
September 22, 2019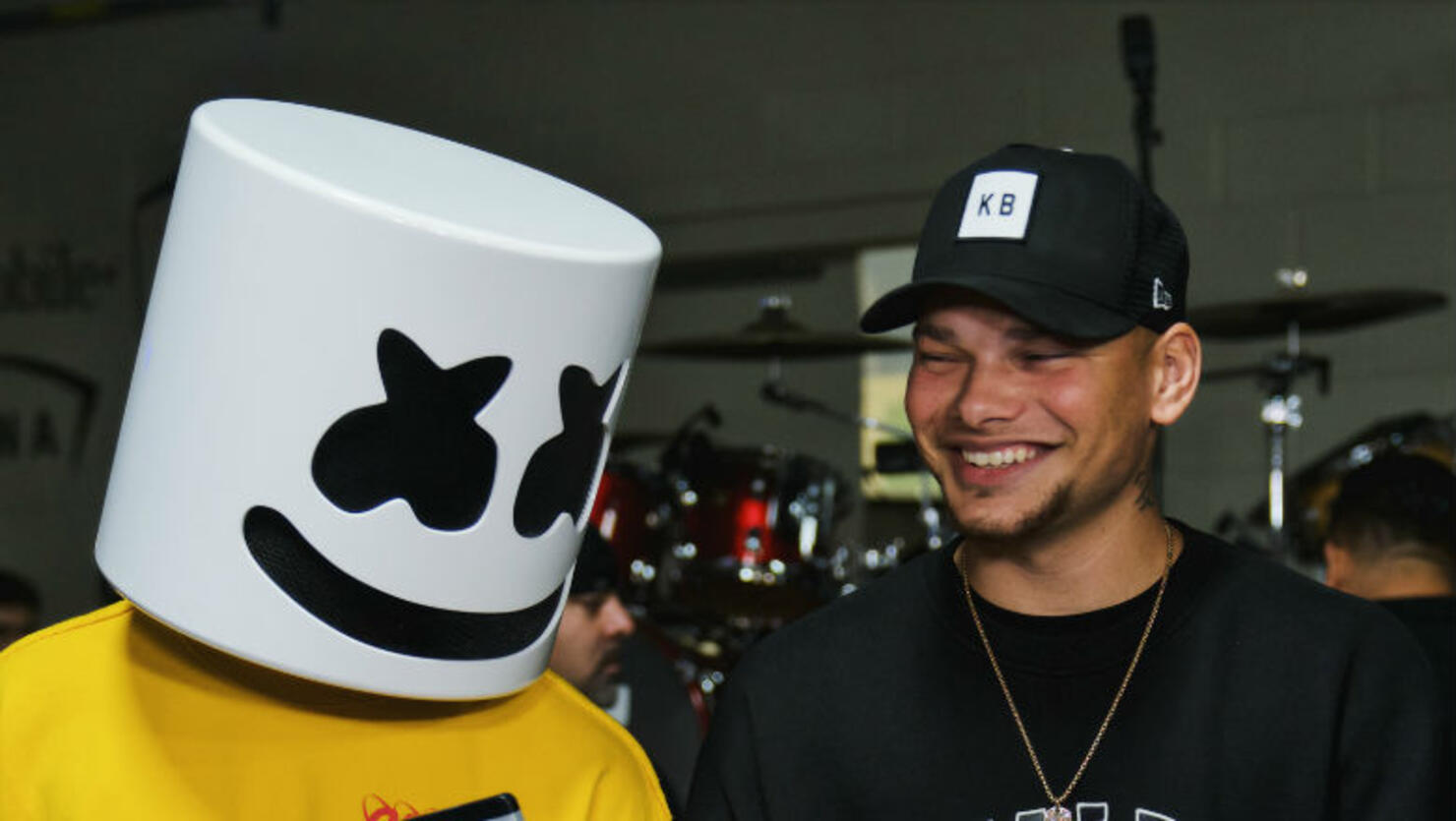 Nothing screams a bromance like two men supporting one of their agendas to be openly emotive about faults and that's what Marshmello and Kane Brown did during their Saturday night (September 21) set at the 2019 iHeartRadio Music Awards.
As part of the closing set at Las Vegas' T-Mobile Arena, the EDM heavyweight, 27, and country singer, 25, delivered a sentimental performance of their new collab, "One Thing Right," a mid-tempo tune where the latter admits his many mistakes and how they've helped him appreciate his wife, Katelyn Jae, who is currently pregnant with the couple's first child. While Marshmello appeared behind the turntables, he introduced his "best friend" Brown, who proceed to put his heart on the sleeve, singing, "I've been at the wrong place at the wrong time/ Chasin' all the wrong things most of my life/ Been every kinda lost that you can't find/ But I got one thing right/ Been the kinda guy girls mamas don't like/ Runnin' with the wrong crowd on the wrong nights/ 'Cause I've been wrong about a million times/ But I got one thing right, you."
Not only is "One Thing Right" the first collaboration between the dynamic dance-country duo, but the track also marks Marshmello's first team-up with a country artist. Elsewhere during the laser-filled performance, the EDM star delivered cuts sans his featured acts like "Wolves," (Selena Gomez) "Friends," (Anne-Marie) and "Everyday," (Logic), but none of them stood out like "One Thing Right."
Back in May, Kane spoke about the track with Billboard, describing it as the opposite of Marshmello's "Happier" collab with Bastille. "It just tells you everything that I've done wrong growing up and it's saying that the one thing I did get right was you, talking about my wife," he said of the song at the time.
If you missed any part of the weekend, we've got you covered. Fans can re-live all of the epic performances and collaborations by tuning in to a televised special on The CW Network at 8 p.m. ET/PT on October 2nd and 3rd. And leading up to the official television special, The CW will also air an hour-long Best Of Special on Sunday, September 29th at 8 p.m. ET/PT taking a look back on all of the most iconic moments from the festival in its nine year history.