Piers Morgan Rips Sam Smith After Brit Awards Axing Gender Categories Rumor
By Hayden Brooks
September 24, 2019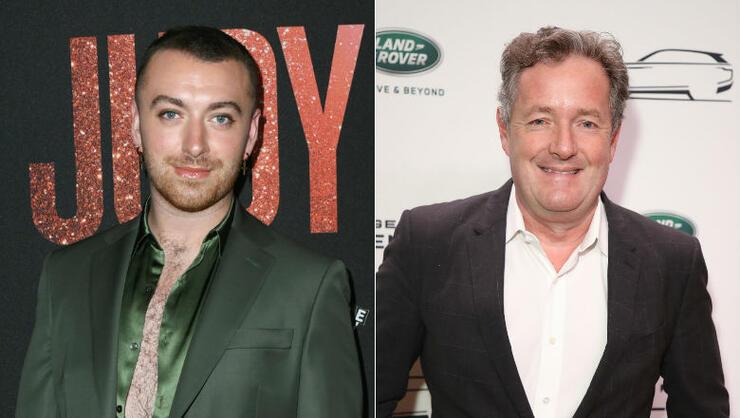 Rumor has it the Brit Awards are considering restructuring their categories by 2021 to no longer reward artists by their gender, but instead their talent. This move comes after Sam Smith, who recently came out as nonbinary this year, announced that they would like to be preferred to with pronouns they/them instead of he/him. Both of the news items prompted Piers Morgan to go off on Smith during a recent broadcast of Good Morning Britain.
"I think it's great that such time-honored awards should be just wrecked like this because one guy can't decide if he's male or female," Morgan said during the broadcast, while misgendering Smith. "They want to accommodate non-binary performers like Sam Smith, which is what I said last week, which category will he now enter? He won't have to, he'll now enter the non-binary categories."
"I'll tell you what will happen," Morgan continued on. "Women will suffer eventually. I suspect what will happen is male performers will end up winning all of the awards...The whole point of having the gender categories is to make it fair and equal; now we're going the other way and that apparently is progress. I think it's a load of nonsense. The idea that you have change entire award categories because one [person] decides one day to wake up and say I'm nonbinary, it's nonsense."
Smith made their big announcement regarding their pronouns in mid-September. "After a lifetime of being at war with my gender I've decided to embrace myself for who I am, inside and out," they wrote in a lengthy note. "I'm so excited and privileged to be surrounded by people that support me in this decision, but I've been very nervous about announcing this because I care too much about what people think but f**k it!"
Smith went on admit that they understands there will likely be "many mistakes and mis gendering," but they simply wants people to try their best. "I hope you can see me like I see myself now. Thank you," they continued. "I am at no stage just yet to eloquently speak at length about what it means to be non binary but I can't wait for the day that I am. So for now I just want to be VISIBLE and open. If you have questions and are wondering what this all means I'll try my best to explain but I have also tagged below the human beings who are fighting the good fight everyday. These are activists and leaders of the non binary/trans community that have helped me and given me so much clarity and understanding."
Chat About Piers Morgan Rips Sam Smith After Brit Awards Axing Gender Categories Rumor